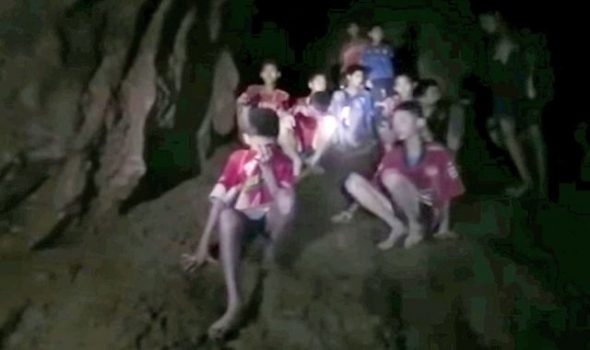 Update 8:21pm: The first two boys have been airlifted to and have arrived at Chiangrai Prachanukroh Hospital, where they are expected to spend the next few days recovering from their ordeal.
The other two boys are currently being taken care of at the field hospital and will follow along to Chiangrai Prachanukroh Hospital shortly. The rest of the boys and their football coach will also be taken there as soon as the rescue is complete. Rescue efforts have now been paused until tomorrow.
Authorities now say the other eight boys and their coach are still in the same place in the cave they have been in for the last two weeks, with rescue of them expected to begin within the next 10 to 20 hours depending on conditions.
Original Story — It was announced several hours ago that the rescue of the 12 Thai schoolboys and their football coach, who have been trapped in a flooded cave in Chiang Rai province for 15 days was now underway.
Minutes ago, news also came from the scene that four of the 12 boys have been rescued by international and Thai divers (13 international divers, 5 Thai divers and 5 Thai Navy SEALS), and are now being taken care of at a field hospital close to the entrance of the cave.
Once they are deemed to be healthy enough to travel, the boys will be taken to Chiangrai Prachanukroh Hospital via helicopter.
The other eight boys and their coach are also currently being rescued, with all expected to be out of the cave and above ground within a few hours for the first time in over two weeks.
All of the boys are members of the Mu Pa Academy Mae Sai football club. Along with their coach, Ekkapol Chantawong, they went down into the caves on a trip on June 23rd, but were prevented from returning when heavy rains caused flooding that forced them further and further into the cave systems to escape the rising water.
They eventually ended up trapped in a large cave more than two kilometers from the surface.