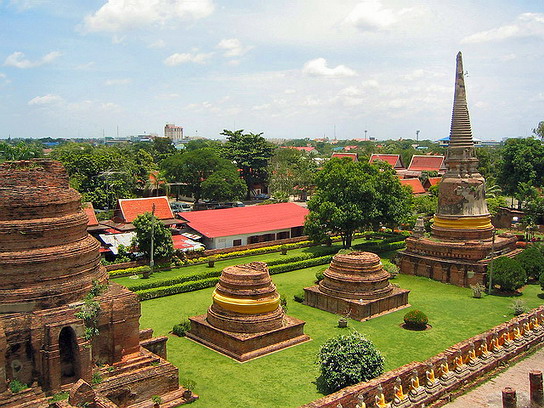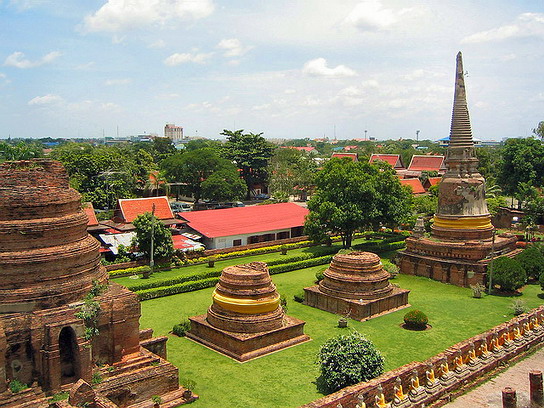 Whether you live in Bangkok or are just here on vacation, it's nice to escape for the weekend and visit somewhere new. The great thing about Bangkok is there are so many fun places to go, within just a few hours. Plus, because Thailand is cheap, you can go on a weekend break from Bangkok and not feel the pinch in your pocket. I've been to several places outside Bangkok for short trips, but these are my favorites.
Ayutthaya
Ayutthaya is the old capital city of Thailand, burnt to the ground by the Burmese in 1767. It was known in its day as the richest city in the East and is still chock full of history. Ancient temples, palace ruins, old chedis and stupas – they're all here. It's a wonderful place to take photographs both in the ruined city and in the small modern town. There are also a few museums to see and a good Historical Study Center that shows Ayutthaya's history in model form.
Ayutthaya, the present day town, is a typical Thai town. Tuk tuks everywhere, little restaurants where you can get great Thai food for $1 a meal, and even elephant rides if that's what you want. As far as accommodation, there are numerous guest houses and small hotels, usually for no more than $15-20 a night. You can also do a home stay in Ayutthaya if you would like an authentic Thai experience.
To get there, take the train from Hualamphong train station. It only takes an hour and a half and is around $1.50 for the fare, plus the view of the countryside is lovely. The other options include the bus (two hours and about $1 cents), or a minibus from Victoria Monument (one hour and $3).
Khao Yai National Park
Khao Yai is a world heritage site, and it is Thailand's most popular national park. Three hours north of Bangkok, you can either get here by bus (from Mo Chit bus station) car, or taxi. The park is huge and beautiful and is home to many of Thailand's endangered species, especially wild elephants, monkeys, deer, wild pigs and tigers.
There are also some vineyards nearby that you can visit if you're not so much into jungle trekking, birdwatching or hiking. Thai wine is actually on the upswing and a wine tasting at one of the vineyards wouldn't go amiss.
There are numerous small guest houses and hotels in the Khao Yai area, as well as a couple of Thai resorts, and bungalows you can rent. All are in or very near to the park, so you can get an early morning start hiking and really see the place.
Don't miss visiting the spectacular waterfalls, which were made famous in the Leonardo DiCaprio movie The Beach. Or, if you like something fun for the kids, don't miss the Chokchai Farm Tour as it's excellent.
Nakhon Ratchasima (otherwise known as 'Korat')
The things to see if you go to Nakhon Ratchasima are the ancient Khmer ruins. They are all over this area and are very much like miniature Angor Wats. Nakhon Ratchasima is also famous for the number of Western men who live in this area. It's one of the cheapest areas of Thailand, so many Westerners have moved here and married Thai wives. A few Western restaurants have popped up because of this, which are now popular with Westerners and locals. The Korat zoo is also a first-class zoo and a great deal at only $3 entrance fee. Korat is a pretty part of Thailand, and a great place simply to relax and gulp in some fresh air.
Best way to get here is by train from Hualamphong station, or by bus from the Mo Chit bus station. The fare on both is around $4, with the journey taking three and a half hours.
Petchaburi
Petchaburi is known all over Thailand as having some of the county's friendliest people. It's a river town, bursting at the seams with temples, tuk tuks, and monkeys. Some of the temples even have monkeys as their guardians. It's on the west shore of the Gulf of Thailand and is two and a half hours by bus from Bangkok.
It's another Thai city replete with ancient ruins, but its main attraction is the large palace on the hill that was built by King Mongkut, and was the setting for the movie "The King and I".
Or, if you like something a bit more natural, the Khao Luang Caves are quite spectacular.
Petchaburi is a traditional Thai-style town, so not visited by many Western tourists. That can be a plus for those who want to get away from the tourist spots, although you will get stared at more. It's only two hours by bus from Bangkok and only an hour north of Hua Hin, so ideally situated for a quick and easy break.
Kanchanaburi
Kanchanaburi is the site of the famous Death Railway and the Bridge Over The River Kwai. It has a wonderful new World War II museum, boat rides, war cemeteries, and boat restaurants with some of the most delicious food in Thailand. Kanchanaburi is also the place to go if you want to see the famous 'Tiger Temple', where you can literally walk with the tigers that are taken care of at the temple by monks.
The nightlife too is fun, with little bars and restaurants all over town, some of which have live music.
I've visited Kanchanaburi twice and have had a great time both times. I love the new World War II museum (the old one was fascinating in a grungy, funky sort of way) and the food up here is bar to none. There are several guest houses and restaurants available in town, or you can rent one of the cabins just a little way out of town. These are nice as they're surrounded by nice gardens and are incredibly peaceful.
If you like something a little more upscale, you can also check out the Oriental Kwai Resort, which is spectacular with gorgeous stand-alone villas right on the banks of the River Kwai.
An hour and a half's bus ride will get you to Kanchanaburi, or an hour on the train. Both are around $1.50 trips, but the train is prettier and you'll see more.
There are plenty of other places near Bangkok for weekend breaks, but these are my favorites. It's cheap to get to any of them, none or more than just over 3 hours away, and they're all pretty places. So the next time you're desperate for a few days of fresh air and relaxation, check out one of these places. You won't be sorry.