On the news in Thailand over the last week, the Thai government has repeatedly said Bangkok will not flood. But, Thai newspapers in the last hour are now reporting one of Bangkok's largest shopping malls, Future Park Rangsit in northern Bangkok, has just had to close as flood waters are now at 30 centimetres outside their front door. Roads leading to it are also under 50 centimetres of water.
Thais near the mall say the water is lapping at the door of their sub-divisions. Many are frantically carrying everything that can be moved up to a higher floor and placing sandbags around their homes.
Devastating floods have affected huge areas of Thailand since July but, during the last two weeks, things have drastically worsened. An estimated thirty five percent of the entire country is now underwater, with Thai news showing daily reports of floods creeping closer and closer to the next town and the next and the next.
Two weeks ago, government officials, tens of thousands of volunteers, and thousands of soldiers were desperately stacking massive walls of sandbags, trying to save hundreds of industrial parks, where most of Thailand's industry lies.
As of yesterday, more than 14,100 Thai factories are under water, and more flooding is occurring daily. The last major industrial park near Bangkok flooded last night.
Japanese companies like Honda and Toyota have lost almost all production in Thailand, as their factories flooded a week ago.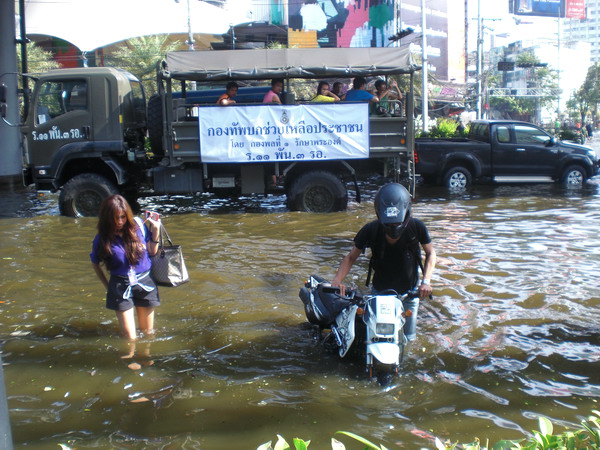 Panic buying has also commenced, with many of Bangkok's supermarket shelves empty of Mama dried noodles, cans of soup, packs of rice, dried fish — any dried or canned food that can easily be stored. Vegetables too have been difficult to get hold of as, with much of the country flooded, much of Thailand's vegetable crop has been destroyed.
Meanwhile the Thai government continues to reassure people Bangkok will not flood. Few Thais seem to believe them, however, and farangs (westerners) stopped believing them two weeks ago when Ayutthaya, one of Thailand's UNESCO World Heritage sites, and a major city, ended up under eight feet of water.
The government had said they could save it from the floods.
Thailand, which has a six-month rainy season, floods ever year. But not to this extent.
With rain almost every day since the beginning of July, floods are now at their highest level in more than 60 years and, if it continues, will probably surpass that record soon.
More than 300 people have already lost their lives in Thailand's floods, and more than a million are now homeless.
But, the Thai government continues to say "Bangkok is safe".
Meanwhile, building an ark is looking like the smartest course of action.