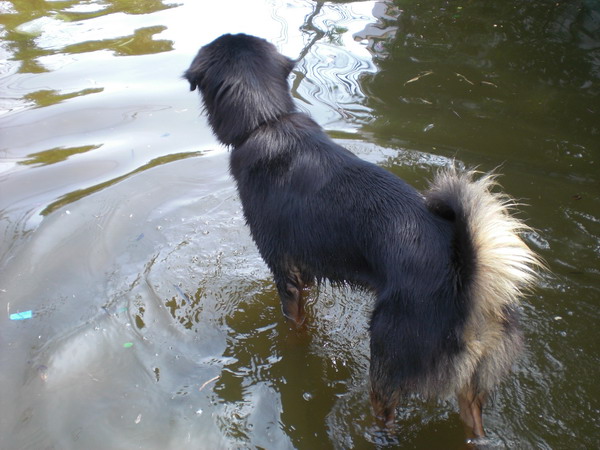 When we woke up this morning our entire soi was flooded. Not remotely unexpected, as we had seen the flood waters coming our way yesterday, by the time we headed out at 10am the water in our soi was at our knees and, once out on Pahonyothin Road walking towards Central Ladprao, flooded areas were knee deep or higher.
But we made a new friend (see above),  so we couldn't complain although he was a bit camera shy.
Once at the end of the soi, it took us an hour to get to the MRT as battling knee deep water isn't as easy as it looks.
ut, the walk was quite pleasant as, in a foot and a half of water, it is far cooler than normal walking in our usual 95 degree heat. Even more fun were Thais walking towards us who kept stopping us to say "Amazing Thailand" and laugh. That alone made the walk highly enjoyable.
From the MRT, we traveled to Chatuchak where we spent an hour as it had no flood water whatsoever (and even fewer shoppers), although water is now lapping at their doors this evening.
On the way back we hopped on motorcycle taxis but, as the water was thigh high by this point, we stalled out at the Ladprao-Pahonyothin-Central intersection and we were abandoned in the middle of the road.
As it turned out, it was a great opportunity to take video of both sides of Pahonyothin Road and the Ladprao-Vibhavadi-Pahonyothin intersection before we abandoned all attempts at safety and waded through the now-butt-high water to Central Ladprao to wait for a bus (and yes, even in butt-high water, the buses are still running).
Weirdly though, what seems like would be a complete pain-in-the-rear of a day was actually incredibly fun.
Almost everyone we came across was in a great mood and making the most of the situation by making fun of it.
That is why you have got to love the Thais. Even in a massive natural disaster, most of them are still smiling.