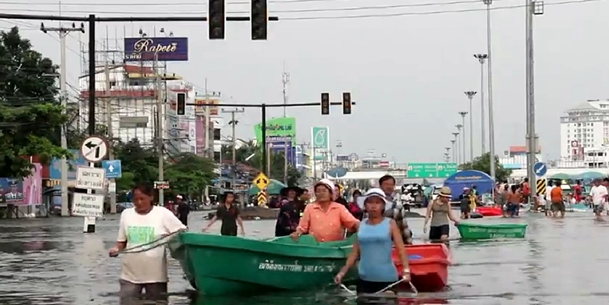 Even though it doesn't seem that long since Thailand experienced the worst floods in more than 70 years, flooding is already happening again in some areas of the country. Six districts around the historic city of Ayutthaya are currently flooding, with more floods expected if the rains continue as they have been.  Ayutthaya districts affected by floods so far are Bang Ban, Phra Nakhon Si Ayutthaya, Sena, Phak Hai, Bang Pa-in and Bang Sai.
The ancient city of Sukhothai is also experiencing more than a meter of flood water, as levees that had not been repaired properly from last year's flooding broke when the Yom River overflowed and flood waters surged into the city.  Some schools in Sukhothai had to suspend classes, and  thousands of residents were forced to move to higher floors of their homes or evacuate completely.
Although the floods in Ayutthaya are nothing yet like the flooding the city received in 2011, when the entire city was under six to twelve feet of water for almost three months, people living in the city must be worried.  Mass evacuation was the norm last year, and it would be a shame to see that kind of devastation again.
In Sukhothai too, the communities of Wichian Chamnong, Ratchathani, Pracha Ruamjai, Khlong Tapetch, Phra Maeya and Tan Diew are presently inundated with water.  If rains continue and local rivers overflow their banks, that flooding too could get worse.
As both Ayutthaya and Sukhothai are UNESCO World Heritage Sites, you can only imagine how much damage is done to ancient ruins by flooding like this.
The government of Yingluck Shinawatra, meanwhile, is saying "flooding is under control", but we all know that didn't turn out to be true last year, when floods not only affected one third of the entire country of Thailand but even affected one third of Bangkok itself.  With so much water coming down from the north, though, no government can stop it. No matter how hard they try.
Unfortunately, though, in Thailand, the opposition too is part of the problem as it does more finger pointing than trying to help solve the situation. So don't expect former prime minister Abhisit and his ilk to help if mass flooding does happen again. They'll be too busy blaming Yingluck Shinawatra and the Pheu Thai government to worry about what floods are doing to average Thais. Just like they did last year.
As for Ayutthaya and Sukhothai, this video by photographer Roger Arnold gives you a good indication of how bad floods can get in Thailand. Taken in October, 2011 in Ayutthaya, this was just the beginning of the floods for those who live in this amazing city and, as Thailand's floods worsened, more flooding hit the center of Ayutthaya until most of the city was under water.