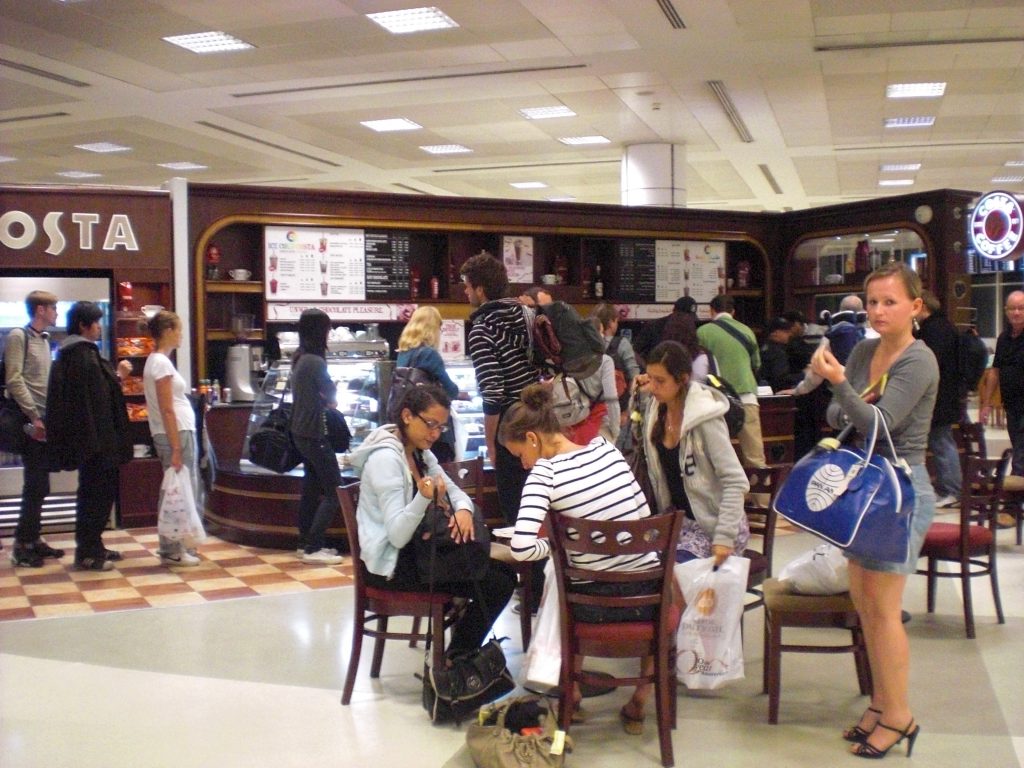 For a trip early in the year to England, I booked a flight from Bangkok to Gatwick, London on Qatar Air. The national airline of Qatar, based in Doha, they offer inexpensive flights with convenient flight times so, for me to book a flight with them was a no-brainer. After taking that flight to the UK on Qatar Air, from now on it will be a no-brainer for me to automatically book Qatar Air on every flight to England I take. The airline really is that good.
Inexpensive Price – I booked my travel on Qatar Air from Bangkok to Gatwick through a travel agent in Bangkok. After looking for flights on several airlines, the Qatar Air flight was not only more than $150 cheaper than any other airline, their flight times were convenient too.
Check-in on Qatar Air – The only thing that could be improved on the airline is the check-in time at Suvarnabhumi Airport. I stood in line for 45 minutes before I was able to check in then, when I did check in, the Qatar Air employee was extremely slow weighing my bag and issuing my ticket. So long in fact that, by the time I got through Thai immigration, I only had 20 minutes to make the flight. A little bit ridiculous to say I'd arrived at Suvarnabhumi Airport more than two hours before departure time.
Service on Qatar Air – One of the many things Qatar Air excels at is the service on board. Absolutely stellar from the moment you sit down, I couldn't find fault with any of it.
As soon as the plane was airborne, attendants came around with hot, moist towels so we could refresh ourselves before food is served. Next, the trolleys begin to appear with the food, which was distributed so fast I could hardly believe it. Wine and cocktails were also served, or tea and coffee, if you wanted it. Everyone was then left for a reasonable amount of time to relax, enjoy their meal and watch the entertainment.
Food trays were then collected, and a flight attendant came around to see if we needed anything else. Not that that was important as, if you rang the attendant bell, someone was at your seat in a minute flat and more than happy to get you anything you needed – quickly. Superb service indeed, and all of it done with a smile.
Food on Qatar Air – Absolutely superb, that's all I can say. On the two flights I took, two meals were served on each. With choices from fish to chicken, pasta to roast potatoes and vegetables, each meal also had a
salad, fresh fruit, bread roll or croissant, a dessert and also chocolate. Tea or coffee was served with every meal, along with bottled water and wine, beer or cocktails. All completely free.
Having traveled on American airlines for so long, where everything is charged for, it was lovely to be able to enjoy a glass of wine without having to fork over $8 for it.
Entertainment on Board – Qatar Air's entertainment system is wonderful. With a choice of more than 150 movies, 300 TV shows, documentaries, games, language lessons, an area where you could learn about the airline and the present flight – there was so much choice, my first seven hour flight flew by. The entertainment on board is so good, if anyone has any fault with it, there's seriously something wrong with them.
Airport Connection Drawback – The only drawback to flying on Qatar Air is the absolutely awful Doha International Airport. Seriously the worst airport I've ever flown through, it's dirty, expensive, has no working internet and the surliest bunch of employees I've ever come across. Pity Qatar Air has that airport as their hub – it really is nasty.
Just about everything on Qatar Air though is superb. The flight from Bangkok to Doha, then Doha to Gatwick was smooth, took off on time and landed early. The flight attendants were lovely – smiling, friendly and extremely polite and helpful. The food was excellent, the entertainment system superb and, with a price cheaper than any other airline offered, there's no reason for me to ever fly on any other airline from Bangkok to Gatwick but on Qatar Air. The airline and the staff should be proud of the service they provide. It's excellent.
Photo – Cafe at Doha International Airport