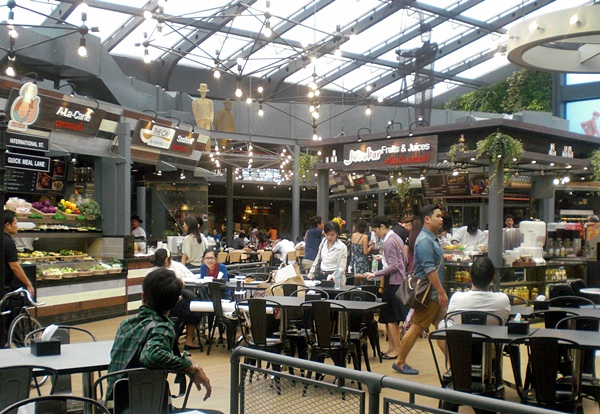 If you're in Bangkok, Thailand you probably know that Siam Center, one of Bangkok's largest downtown shopping malls, has recently gone through a major renovation. I was there a couple of weeks ago with a Thai friend and, although I absolutely loved the entire Siam Center renovation, (it's simply gorgeous) I was particularly delighted with the Food Factory on the top floor of the mall.
Siam Center's Food Factory is the area where the mall's food court is located. But, unlike many Bangkok food courts, it's not just your typical generic space. In fact, Food Factory's design makes you feel like you're sitting in the middle of an old but cool and trendy industrial space — it really is beautiful.
At the Siam Center Food Factory, there's a choice of a boatload of cuisine — everything from Thai and Chinese, to Italian and American, Japanese and Indian and their prices are really quite reasonable. There are also a boatload of full-service restaurants and cafes surrounding the food court area, if you prefer to eat in a sit-down environment.
As you can imagine, however, it is absolutely crowded so do get there early if you want to be able to order your food without standing in a line.
Meanwhile, check out the photos I took of Food Factory and the surrounding area. Isn't it just the coolest place in Bangkok that you've ever seen?