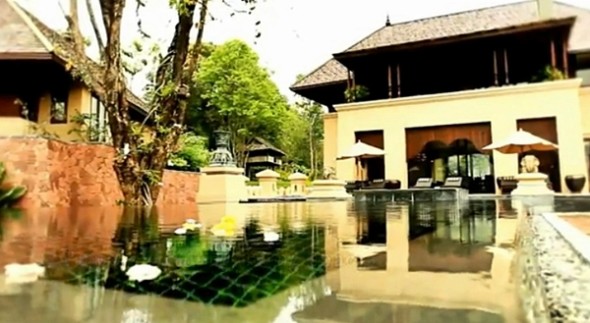 If you ask anyone in the Chiang Mai area of Thailand, they will tell you one of the top three best luxury hotels in Chiang Mai, without any doubt, is the Four Seasons Hotel. A truly spectacular hotel and resort, the Four Seasons Hotel in Chiang Mai is built in the Lanna-style of northern Thailand. It's rooms and private villas look out over mountains and rice paddies, while the hotel itself offers unparallelled pampering in a self-contained retreat.
If you are looking for a true five-star luxury hotel, which has every amenity you could ever want but just 80 secluded suites and villas, and with an atmosphere and architecture that is reminiscent of traditional Thailand back in the days of the Lanna Kingdom, the Four Seasons Chiang Mai is the place.
The Four Seasons is located around 15 minutes outside Chiang Mai — close enough to be able to see everything this lovely town has to offer, yet far enough away the tranquility of the mountains and rice fields will relax and inspire you.
Stay in a pavilion or rent one of the 17 residences on the property. Residences, of course, are similar to private homes and are stunningly luxurious and beautiful. They each sit in their own grounds and with private swimming pools and gardens, far away from the eyes of other visitors.
Watch the video for just how absolutely spectacular the Four Seasons Hotel in Chiang Mai really is.
If you are looking for a  five-star Chiang Mai luxury hotel for a honeymoon, a golden wedding celebration, or just to be at peace with the world, the Four Seasons in Chiang Mai is the perfect choice. And, oh so beautiful.