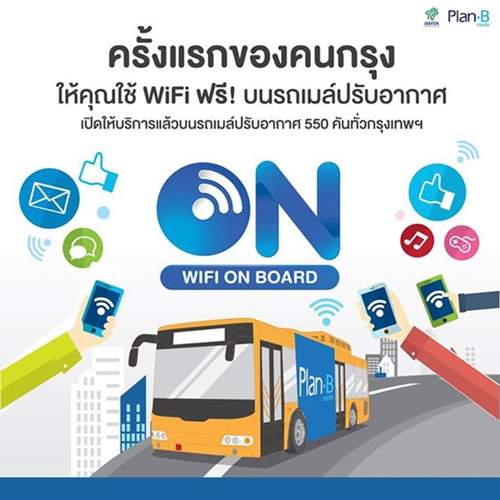 It's always funny to me how many Americans think Thailand isn't very developed. Then they get to Bangkok and realize, yes, it actually is. In fact, in some respects, Bangkok is more developed than some American cities.
Case in point, the Bangkok Mass Transit Authority (BMTA) started offering free Wi-Fi on 550 of the new Bangkok Euro II buses this month, yet I've been in several American cities that still don't have buses that have that.
And the srvice is easy to use. In fact, all you have to do to access free Wi-Fi on these Bangkok buses is to look for "On Wi-Fi" on whichever device you are using. Then key in your mobile phone number and your birthday.
Once you've done that, you'll be sent a text message with a password. Input the password, watch a quick advert video, and from then on you can surf the Internet for as long as you are on the bus.
Buses to take to get to Bangkok's shopping malls
Bangkok bus numbers that have free Wi-Fi currently are — 39, 510, 520, 555, 26, 60, 514, 511, 36, 73, 16, 503, 23, 70, 79, 515 and 556.
These buses will be added to later as the BMTA's free Wi-Fi on Bangkok buses program continues to roll out across the city.
All I can say is I'm now psyched to take my next ride on a Bangkok bus, just to test out the new service. How about you?