Chatuchak has some of the best fried chicken and somtam in Bangkok
Chatuchak Weekend Market in Bangkok is not only famous for being south east Asia's largest outdoor market (15,000-plus stalls) but is also known, by Thais, for being one of the best places in Bangkok for food. There are loads of little food stalls, cafes, food carts and full-blown sit-down restaurants, serving everything from Thai snacks and meals to western-style food like pizza, or Middle-Eastern gyros.
Today, I ran over to Chatuchak (known simply as "J.J." by Thais) to pick up rabbit food, a few odds and ends and, while there, to grab a bite for lunch. I ended up at a packed restaurant where, as usual, I was the only westerner in the place.
But, as I learned a long time ago, if you see a restaurant stuffed to the rafters with Thais, the food must be good. Thais never waste their time eating mediocre food – food is just too important – so, you can guarantee busy restaurants are good restaurants. And today's was no exception.
Once settled in, I ordered fried chicken Thai-style, served with a small container of sweet and sour sauce and one of chili sauce, a plate of som tam (spicy papaya salad) and rice. The chicken was tender, moist and fried perfectly with a slightly spicy coating.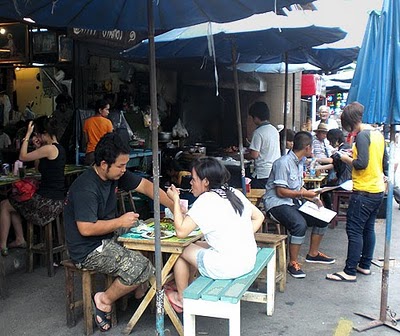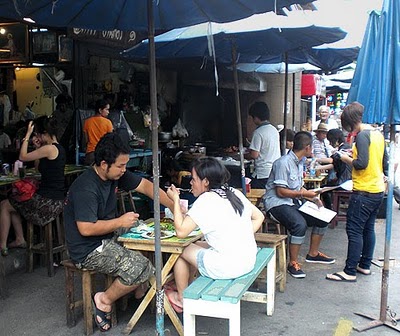 The som tam was spicy enough to feel a quick 'bite' but, my guess is, spiced-down a bit because I'm a farang (westerner). Thais will often make food less spicy when they see it's a westerner ordering – a fact that's annoying if you love hot-like-fire food. With more chili, it would have been perfect but, even with less, it was still darned close.
That's why, the next time you're feeling like fried chicken and som tam in Bangkok, you really should head to Chatuchak.