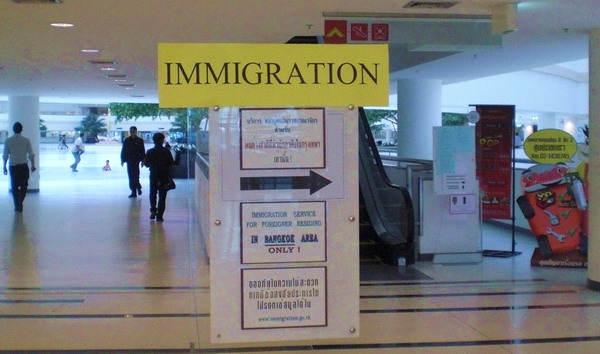 While it is nice that Prof. Tongthong Chandransu, FROC spokesperson, finally addressed the issue of foreigners dealing with floods in Thailand (several months after this started to affect foreigners living in various areas of Thailand), the Thai government has still not made a statement about the daily 500 baht overstay fine being waived for foreigners unable to leave the country due to floods.
We have several friends who have been forced to overstay in the Kingdom due to floods — two cannot get flights out as all flights leaving the Kingdom are full.
Others are unable get to the border to do a visa run as their areas are flooded and no taxi will pick them up at 4am, the time they must leave their residence to catch the visa run bus to Cambodia.
Yet, Thailand will still charge them 500 baht per day ($16.66) for every day they overstay, up to a maximum of 20,000 baht ($650).
Meanwhile, here is the statement from FROC relating to foreign residents or visitors in Thailand. Not very helpful overall:
For foreign residents in the Kingdom, as well as visitors, the authorities and the Thai people are well aware that the flood situation have affected your lives as well. It has caused inconveniences and disrupted your plans, your businesses, your families, your children. But in this situation, we consider you, when in our country, as "part of us, like a part of the same family", meaning we do not limit assistance or facilitation only to Thai citizens.
This is especially true for those who are most in need —foreign migrant labour, a large number of which have been residing at the shelters arranged by the Ministry of Labor. They are provided with food, water, shelter and facilitation and officials on on hand to assist with any other needs that may arise.
Foreign businesses and industrial estates have been affected by the situation, and Deputy Prime Minister and Minister of Commerce Kittirat and other related economic ministries have prepared many measures for economic rehabilitation. What is important is that the country's economic fundamentals will remain strong, and that the long term economic policy will continue.
For foreign tourists, surely your friends and relatives would be worried about your safety. It is best that you assure them that you are heeding the advice of the authorities, closely monitoring the situation, and that you are safe and dry. You can also assure them that the floods are not life threatening, although it may cause inconveniences. And despite the floods, you are still able to travel in most areas of Bangkok, the BTS is operational, and of course many tourist destinations have not at all been affected.
For those outside Thailand, you would agree that in natural disaster management, there is no perfect formula. Many of you may have followed natural disasters in other countries around the world, be it earthquakes, tsunami, typhoons, forest fires, or even mining mishaps. You would notice that in the management and recovery process, many many challenges arise. In our case, this is the first floods of this magnitude in at least 50 or 60 years. And as a first, we had to take the time to integrate our efforts.
Some news agencies have reported that the floods have affected Thailand up to the size of Denmark. While this may be true, this size, the floods, have in fact affected only one fourth and one fifth of the country. Thailand is also approximately the size of France and also the size of the US states of California and Nevada combined, so many of you can imagine the land area affected, which is only a small fraction of the country. Some news agencies have also showed pictures that passenger airplanes were surrounded by floods, in fact these are decommissioned planes at Donmuang that has ceased operations. They are not images of planes at Suvarnabhumi Airport which is operational.
The Director of FROC recently briefed the diplomatic corps on the flood situation. Foreign embassies and consulates were also asked to serve as an additional channel to convey information to their citizens. The Ministry website also has a flood situation page, with summaries of FROC press conferences and other announcements. It has recorded over 10,000 hits in the past three weeks.
In addition, the Ministry has set up a mobile passport center to service those who need to travel abroad. The legalization division of the consular department has also set up office at the Foreign Ministry on Sri Ayudhya Rd., as the Consular Department on Chang Wattana is currently flooded and inaccessible.