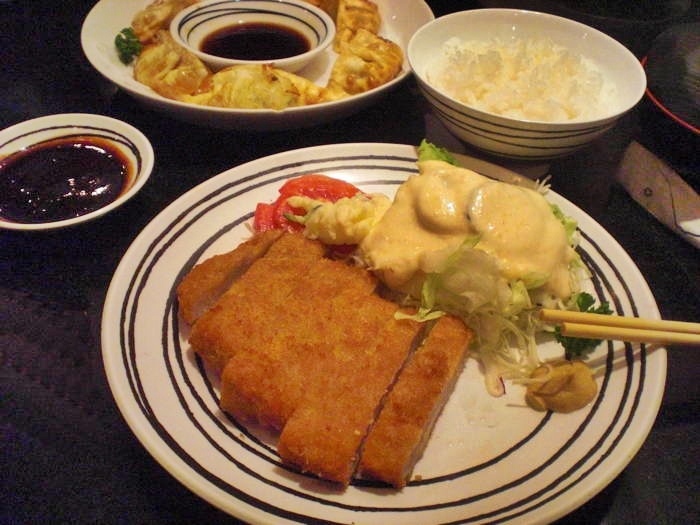 Fuji in Bangkok serves cheap, fresh and delicious Japanese food
Fuji is a Japanese restaurant chain in Bangkok, Thailand serving cheap but tasty traditional Japanese cuisine.
It is the most popular Japanese restaurant chain in Thailand, so much so that, if you go to any Fuji restaurant in Bangkok for lunch or dinner, you'll have to add your name to a waiting list and wait at least 15 minutes.
There are more than 70 Fuji restaurants around Bangkok – every shopping mall has one as well as many of the supermarket chains.
The success of the Fuji restaurant chain is the consistently inexpensive price, the good quality food, the freshness of the food and the friendliness of the staff. Fuji's menu is enormous, so if you can't find something here, you really are the world's pickiest eater.
What to eat at Fuji?
My favorite thing at Fuji is the Tempura Bento Box set. At a cost of just over $6, this meal is huge.
A bento box is a Japanese lacquered box with individual compartments. Each compartment is filled with a different food. Several kinds of sushi, rice, grilled teriyaki salmon, pickled ginger, shrimp tempura, Japanese salad, fish balls, wasabi – all of this and more is in the bento box set. It also comes with a bowl of miso soup and a side of watermelon.
This bento box is one of the best I've eaten as the food is so fresh.
I also like the Tonkatsu at Fuji. Tonkatsu is pork that is fried in a batter and served with a Japanese salad. These are always fresh out of the oil, and the meat is succulent and fresh. The side dish of a cabbage salad with mayonnaise and cucumbers is also refreshing, and a perfect compliment to the Tonkatsu.
If you like noodles, Fuji's Udon Noodle Bowls are delicious. Unlike Thai noodles, they are not spicy, and the broth is full of flavor and very tasty. They're also filling and fabulous for an inexpensive lunch.
If sushi is your thing (and it is mine), then Fuji is the place to go for that as well.
You can order either individual plates of sushi or sushi sets that come with lots of side dishes and a bowl of a rich miso soup. The sets are usually the best deal, and Fuji has many different types.
For dessert, the Thai shaved ice desserts are addictive and low in fat (but not low in calories). Thai shaved ice is a mound of shaved ice, with a choice of flavored fruit syrup and then drenched in condensed milk. They're scrumptious.
Affordable prices
Fuji Restaurants are so popular in Bangkok because Thais like inexpensive food, but they also expect it to be delicious. At Fuji, you can get a full meal for $5 to $10, depending on what you choose.
Their beverages are inexpensive too, with a choice of green teas, coffee, iced drinks, fruit juices, fruit shakes and a variety of beers.
The Fuji restaurants are all casual dining places too, but they look elegant. They're designed with comfortable booths, where you're expected to take your shoes off and then step over a wooden ledge and into the booth area, just like you would in Japan.
Each restaurant has bamboo walls that separate the seating areas, and beautiful photographs of Japan all over the walls. The atmosphere always seems chic and elegant even though you're paying such cheap prices.
Try Fuji restaurants when you're in Bangkok. You'll love the food, the atmosphere and the service, and don't forget the affordable price.