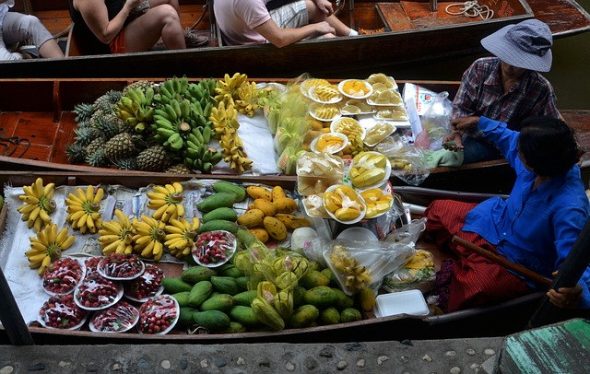 Ratchaburi is one of the most popular provinces to visit in Thailand. Just an hour outside Bangkok, Ratchaburi covers more than 5,000 square kilometers and is a favorite place for day trips, weekends and longer. If you are planning a trip to Ratchaburi, with so much to see and do, make sure you don't miss these wonderful things. They're the best the province has to offer.
Damnoen Saduak Floating Market – While I'm not a particular fan of the Damnoen Saduak Floating Market, as it's geared more towards tourists, for a first time visitor to Ratchaburi it's still a great place to get an idea of how traditional floating markets used to operate in Thailand.
The best time to visit Damnoen Saduak is early in the morning (before 7am) before all the tourist buses arrive, as you'll have time to see everything before the market closes at noon.
You can walk along the banks of the klongs, see the market boats floating by laden with noodles, fruit, curries, hats, clothes, toys, flowers and more. Stop one of the boats if you want to eat breakfast and the boatman/woman will whip you up a bowl of hot noodles or chicken and rice right there from the boat.
Rattanakosin Pottery – I am a huge pottery fan, so always suggest a first-time visitor to Ratchaburi should visit Rattanakosin Pottery. The pottery has an astounding amount of handmade pottery, much of which you can see being made in the wood-fired kilns out on the pottery grounds.
Rattanakosin Pottery is a producer of the famous Thai Benjarong pottery (extremely ornate and beautiful) as well as terracotta, ceramic and crockery. Don't forget to visit the pottery shop too. Prices are inexpensive and their pottery is gorgeous.
You'll find Rattanakosin Pottery at 124 Petkasem Road, Ratchaburi.
Tham Khao Bin Cave – One of the most spectacular cave systems in the Ratchaburi area, Tham Khao Bin Cave is famous for its amazing stalactites and stalagmites. The cave stretches back more than 300 meters and is popular with locals because of the mineral spring inside the cave that they believe is watched over by spirits.
The light inside Tham Khao Bin Cave is phenomenal with some of the most vibrant rock formations you have ever seen. Don't forget your camera, and check out the garden area surrounding the entrance to the cave as well. It's lovely.
Tham Khao Bin Cave is 20 kilometers outside the city of Ratchaburi. If you're driving, any local can point you in the right direction.
Wat Muang Folk Art Museum – One of the most interesting museums in the Ratchaburi area is a relatively new folk museum opened in 1992 in honor of Her Majesty Queen Sirikit.
I am a sucker for folk art museums and particularly the ones like this Ratchaburi museum, as it's not just a museum but is also used by students from Silpakorn University who come here to do work study in archaeology, anthropology and folk art.
When you have toured the museum, don't miss seeing the temple, Wat Muang, which is in the museum grounds. It is a particularly fine example of a Mon temple.