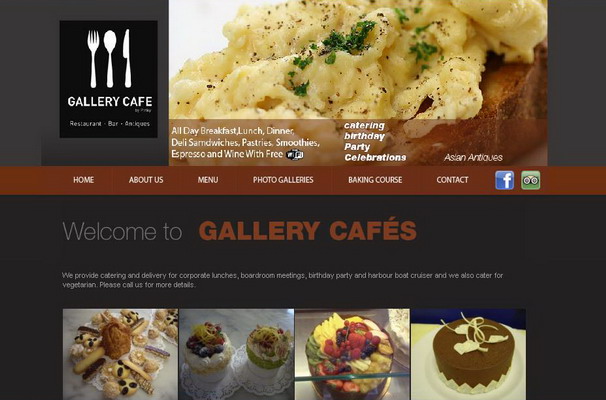 On a recent trip to the Thai island of Phuket, I met a friend for lunch. Although she works in Bangkok, Phuket is her home town and, every time I'd seen her recently, she'd raved about a restaurant in the old town area of Phuket Town called 'Gallery Cafe by Pinky'. She'd promised to take me for lunch if I ever made it down there so, when I finally managed to have a three-day weekend on Phuket, Gallery Cafe had to be our first stop.
Location of Gallery Cafe – Gallery Cafe is situated at 106 Rassada Road in Phuket, in the middle of the old town area of Phuket Town. You'll spot it instantly as it's the coolest building on the street and, if you're not sure you've got the right place, just look for the large open-plan bookcases and the trendy yet laidback style.
Atmosphere at Gallery Cafe – Gallery Cafe by Pinky is one of the most comfortable and pleasant cafes I think I've ever eaten at. It's only a small place but, with the front outdoor patio area and the courtyard, it can seat more people than at first glance.
The first thing that hits you when you walk through the door at Gallery Cafe though is how friendly the staff is. They immediately shout a cheery "Sawtdee Kha," and throughout your entire visit everything is served with big smiles and a genuinely happy-to-see-you air.
Food at Gallery Cafe – Before I left for Phuket, I checked reviews of Gallery Cafe by Pinky on Trip Advisor. Not surprising, at least according to my friend, it had five out of five Trip Advisor stars with every person reviewing it giving it one of the best write-ups I've seen for a restaurant on Trip Advisor. Once I sat down, and begin to eat, I knew immediately Gallery Cafe literally had to be one of the top 10 restaurants on all of Phuket Island. Yes, it really is that good.
The menu at Gallery Cafe is extensive. and, as they serve, breakfast, lunch, dinner and as many snacks as you want, you could conceivably eat every meal here for the rest of your life (or, at least, for the rest of your stay in Phuket).
For breakfast, choices range from muesli with fruit to French toast, and smoked salmon with capers and a full English cooked breakfast. Lunch includes an enormous selection of sandwiches (and at an average of only 120 baht – $4 – why not order two). I eventually ate at Gallery Cafe twice and, both times, had sandwiches. The avocado and feta cheese was my absolute favorite, but the second sandwich – cheddar, tomatoes and salami – was pretty amazing too. There's also a nice variety of toasties (toasted sandwiches).
Or why not try a cheeseburger, a pizza or a salad (their Greek salad is lovely) or a plate of chips (French fries). Chips are served with garlic mayonnaise – supremely delicious and well worth a second order. Their lasagne is excellent too. Although I didn't order one myself, my friend did, and just the two forkfulls I ate had me putting this on my list of things to eat then next time I make it to Gallery Cafe.
When you think Gallery Cafe can't improve on the food you've already eaten, order a cake or a pastry and you'll be blown away even more. Cheesecake, chocolate cake, cake smothered with cream and fruit, brownies, slices of green tea cake — there's such a large selection of baked goods you can't stop at one. Cake selections change daily too and, as the chef is a master baker, who also runs baking courses from the cafe, I challenge you to find a better slice of cake on Phuket than here.
Extras – European friends also tell me Gallery Cafe cooks a stellar Sunday Roast dinner and, particularly if you're British, there's no better choice on Phuket for a place for Sunday lunch.
At night the cafe becomes more of a bar and restaurant than a cafe, so it's a great place to have dinner, and enjoy a beer, or a glass of wine. They also do a Happy Hour every night, with beers as cheap as 50 baht ($1.75), so if you're at a loose end, or just want a fun, relaxed place to hang out, Gallery Cafe is the top spot.
More Information: