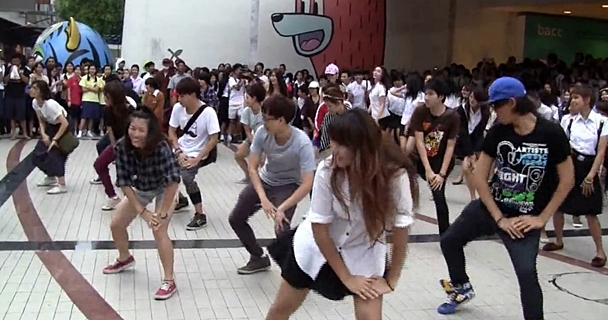 It's no secret that the Korean pop (K-Pop) song 'Gangnam Style' is huge in Thailand. Sung by Korean singing sensation Psy, or Park Jae-sang, Gangnam Style can be heard in clubs, bars, shopping malls and playgrounds all over Thailand. So, when a large Bangkok flash mob for Gangnam Style suddenly appeared outside the Bangkok Art and Culture Center last week, it was extremely fun to see.
The Bangkok Gangnam Style flash mob was put together by a couple of hundred students from Silpakorn University as part of the celebrations for the 10th anniversary of the Information and Communication Technology Department at the well-known Thai university.
The participants in the flash mob really got into the fun of things, even bringing lots of screaming fans to photograph and support them. Of course, in Thailand that's never needed, as thousands more people will show up in no time if you're giving a free dance performance.
Nice job, Silpakorn.