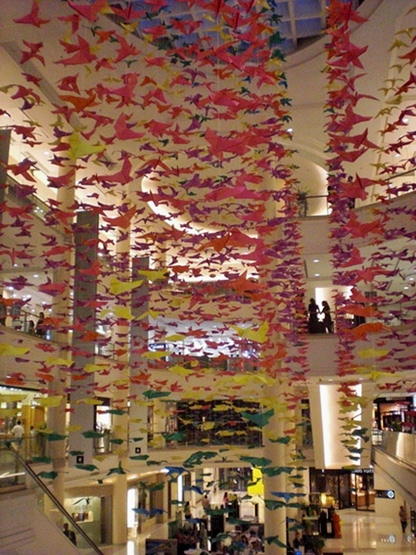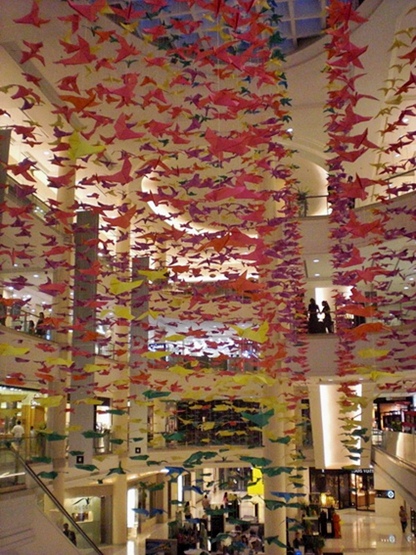 Gaysorn Plaza in Bangkok, Thailand is a small mall compared to the city's mega-malls. However, if you are the type who loves designer labels, exclusive items and luxury goods, Gaysorn Plaza is the place you should shop first. Popular with Thailand's high-society, European elite and the Middle East's rich, Gaysorn Plaza's stores are a cornucopia of wonder.
Even if you do not have the large amounts of money required to shop in most stores in this mall, Gaysorn Plaza is still a fabulous place to wander around. And, as a cup of coffee here is not much more expensive than anywhere else,- you can mix with the rich and famous and still only spend a few baht.
In fact, I often enjoy an afternoon at Gaysorn, as it is quieter than other malls and makes me feel high-society and rich, even if I'm not.
Location of Gaysorn Plaza – Gaysorn is situated in the Ratchaprasong district of Bangkok, Thailand. Directly opposite Thailand's largest mall, Central World Plaza, and across the street from Amarin Plaza and Erawan Bangkok, it has a lot of competition for its goods.
Accessible by the sky bridge from Chidlom sky train station, it's easy to get to from just about anywhere in Bangkok.
Shopping at Gaysorn Plaza – There are more than 100 stores at Gaysorn on five levels. Here, you will find Gucci, Prada, Zenga, Armani, Bally, Alfred Dunhill, Aigner, Porsche, Tumi, Burberry, Fendi and many more designer labels and luxury brands stores.
Watch and jewelry stores are also a draw at Gaysorn. If you love expensive watches, browsing at Omega or Pendulum will make you salivate. For high-end jewelry, Olivia Diamonds, PT House and Bussarakam have beautiful designs and gorgeous gems.
Or, if you just want fashion jewelry for the exclusive look but not the price, Swarovski or SAW have beautiful things.
Home Design at Gaysorn Plaza — Gaysorn Plaza is popular with Thais for its many home design stores. With styles ranging from traditional Thai to modern European, the art and craft shops at the mall are wonderful places to buy unique items to decorate your home.
My favorite stores here are Ayodhya and Triphum. Both stores sell Thai arts and crafts but with completely opposite styles. Ayodhya is modern, cutting edge and unique. Triphum is traditional Thai with lots of ornate and heavy items that showcase the stunning designs Thailand has to offer.
Don't miss Thann Native, ME and Lamont Design for more contemporary choices.
Beauty Salons at Gaysorn – Not only known for its exclusive stores, Gaysorn Plaza is also home to some of the best beauty salons and spas in the city. Enjoy a day of pampering at Salon La Prairie, THANN Sanctuary or Panpuri – facials, massages and hair and scalp treatments are world-class and oh so relaxing.
Just don't worry about the price, as it won't be cheap.
Cafes at Gaysorn – If I want to enjoy a snack or meal in a truly exclusive environment, I always head to Gaysorn. Senses restaurant, on the first floor, is an incredible restaurant that serves a mix of Asian and European fusion food. Their pastas are excellent, and don't miss the incredible desserts. The coffee is wonderful too.
Or, if you are just looking for afternoon tea in a pretty environment, THANN Native Tea Room is also lovely. With many choices of teas and delicious cakes, it's a fun place to sit and enjoy being hi-so, or pretend to be if you're not.
For a fun day of luxury brands, pampering and great food, Gaysorn Plaza is wonderful. They also often have fashion shows and other events in the mall, where you can see the latest designs and fashions, before buying them for yourself.
To get to the mall, take the sky train to Chidlom station, walk out of the station and down the long sky bridge. You'll see Gaysorn Plaza on your right handside just past the Intercontinental Hotel.