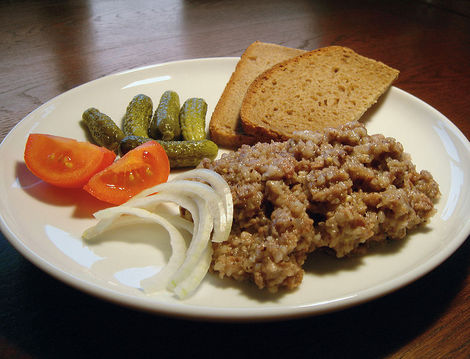 Living in Thailand, I tend to travel up to Chiang Mai in northern Thailand every few months on vacation. When I'm there, I always visit German Hofbrauhaus restaurant several times as it's easily one of the best German restaurants in Thailand. German Hofbrauhaus restaurant serves German, Spanish, Italian and Thai food, and a few American favorites too. Plus it's location is perfect as it's slap bang in the middle of Chiang Mai's famous night bazaar. If you're going to be in Chiang Mai and love German food, don't miss German Hobrauhaus restaurant and here's why.
German Hobrauhaus Service – The service at German Hobrauhaus is wonderful. The restaurant always has a tout standing outside trying to persuade people into the restaurant but, unlike at some other Chiang Mai restaurants, they're never too pushy and are instead usually cute and funny. And, if you eat there, they often remember you the next time you walk by and shout a friendly "Hello".
Once inside the restaurant, you'll be shown to a table immediately, offered a menu and have your drinks order brought to you in 2 minutes flat. Food arrives quickly and piping hot and, once served, the wait staff will keep an eye on you to make sure you're okay but are never too pushy or annoying. The last time I was there with my parents and a family friend, the skies suddenly opened and a foot of rain appeared in less than 15 minutes. As the soi began to flood, staff from German Hofbrauhaus rushed out of the restaurant and quickly moved everyone sitting on the patio, my family included, inside the restaurant and into the dry. The rain went on for so long we were even given free coffee to make us feel welcome. A very nice touch indeed.
German Hofbrauhaus Food – I love the food at the German Hofbrauhaus restaurant. They have a large menu with choices of food from Germany, Spain, Italy and Thailand. A lot of their menu choices also have photos, so you can see what you're getting before you order. My favorite food there is one of the many pizzas they make, with delicious crusts and fresh toppings and not too expensive at around $6 for a full-size pizza. You can also order a perfectly cooked steak, several different styles of pasta, and don't forget the Thai dishes – enormous portions and perfectly spiced. My father loves the German sausages and my mother was quite a fan of the lasagne. My family and I also ate Christmas dinner there one Christmas Eve and, sitting outside on the patio, with Christmas music playing and crowds of people walking by shouting "Merry Christmas", and delicious food, it really was perfect.
German Hofbrauhaus Drinks – German Hofbrauhaus has the usual selection of Thai beers, but also has a good selection of imported German, Mexican and other foreign beers. They also sell imported German schnapps (scrumptious!). Their fruit juice drinks are yummy, as are the cocktails and, if you like Thai beer, they have that too.
German Hofbrauhaus Prices – Prices for food are inexpensive, especially for the quality and the enormous portions. For between $4 and $10 for an entree and bearing in mind the entrees are very large, it's great value for money. You can even just order 3 entrees for 4 people and have plenty of food for everyone.
German Hofbrauhaus Location – I absolutely love German Hofbrauhaus for the location. It's right in the middle of Chiang Mai's famous night market or night bazaar, so is a wonderful place to sit and people watch particularly if you sit outside on the patio. It also means that you can eat dinner, have a couple of drinks and relax and then get up and head outside to browse the thousands of stalls at the night market. The restaurant is also very clean, up to and including the spotless bathroom so for very finicky restaurant patrons, you'll have no worries here.
If you're in Chiang Mai, looking for a change from Thai food and want to try inexpensive but superb German/European food, you can't go wrong with German Hofbrauhaus. Prices are good, the staff are lovely and the food is delicious. It's a truly wonderful Thai experience – even if the food is German!