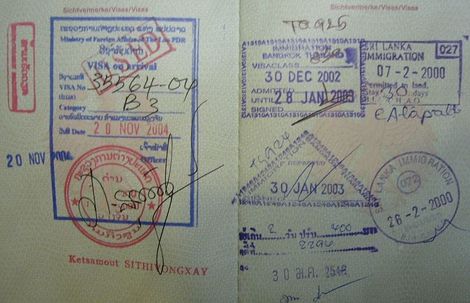 No stranger to obtaining travel visas (tourist and non-immigrant B visas) for Thailand, in January I found myself in London, England in need of a new visa so I could go back to Thailand two months later. In the past, I've always visited Thai embassies or consulates in other Asian countries, so this was the first time I had attempted to get a visa in England.
After reading many accounts online of the superb service at the Thai Consulate in the city of Hull, I downloaded the visa application form and mailed it in. To say I received the best service I've ever received at any Thai consulate or embassy anywhere is, quite frankly, an understatement. In fact, the Thai Consulate in Hull offers the best service of any Thai entity anywhere.
Requirements for Getting a Thailand Travel Visa in Hull, England – If you're planning on applying for a travel visa (tourist or non-immigrant B) to Thailand in Hull, England, you must meet the requirements before you have any hope of getting one.
1. Citizens of 48 countries are allowed to get a 60 day tourist visa or a non-immigrant B visa for work purposes for Thailand, via mail from Hull in the UK. These countries are listed on the Hull Consulate's website (see link below).
2. You can get a tourist visa or non-immigrant B visa by mail, if you're a citizen of one of these countries. You can also do it in person but, if you decide to do that, you must make an appointment before you arrive, and it will likely be processed within an hour of your arrival – far more efficient than Asian Thai consulates and embassies, which require you to return a day later for visa pick-up.
How to Apply – Simply download a copy of the application form from the Hull Consulate website (see link below), complete it, attach photographs and any relevant documents and any fees required and mail it via Royal Mail "Special Delivery", so the passport can be tracked if its lost.
You should also remember to include extra money (cash, check, postal order or credit card number) so that Hull's Thai Consulate can mail your passport back to you with your visa included. It's currently £10, but that can change so check the website before mailing your passport.
My Experience Sending Visa Application By Mail – I completed all the paperwork as requested by Hull's Thai Consulate, included photographs, credit card number for all applicable fees, and filled in the self-certification form, certifying I had enough funds to support myself while in Thailand. Then I trotted down to the post office and mailed it.
I mailed the application in a town just north of London, at around 2pm on a Tuesday afternoon. I sent it via Royal Mail "Special Delivery", which cost an extra £5 ($9), but was well worth it for the comfort of knowing I could get the post office to track it, if the envelope containing my passport disappeared in transit.
I left the post office to go to a local cafe for coffee and thought nothing more about it. Until, I received a phone call from the Hull Consulate at 9:20am the following morning (and yes, you read that correctly – just over 19 hours after I had mailed my passport, I was receiving a phone call from Hull, who had already received it and were processing it immediately).
The lovely woman on the phone told me they'd tried to process my credit card for payment of the Thai visa fees, only to have it declined. Why? Because, like an idiot, I had written down an incorrect credit card expiration date. I gave her the correct one, she processed my payment while I waited on the line and, less than two minutes later, she was saying "Goodbye" and telling me my passport would be returned in the mail to me, with my non-immigrant B visa, that same afternoon.
The following day, I received the passport by Royal Mail "Special Delivery" before lunchtime. The whole process took less than 46 hours from door to door to door.
In more than eight years of applying for tourist visas and non-immigrant B visas for Thailand, I have never received such efficient, fast, courteous and very friendly service from any other Thai consulate. The staff at the Hull Thai Consulate should be proud of themselves as I now see what all my British friends tell me. Don't even bother with getting a visa from another Thai Consulate, if you can help it. The Thai Consulate in Hull is absolutely superb and should be commended – loudly.
Documents You Need:
Citizens of 48 Countries (click on link, then download 'General Rules and Regulations'
Visa Application Form – (click on link, then dowload 'Visa Application Form Packet'