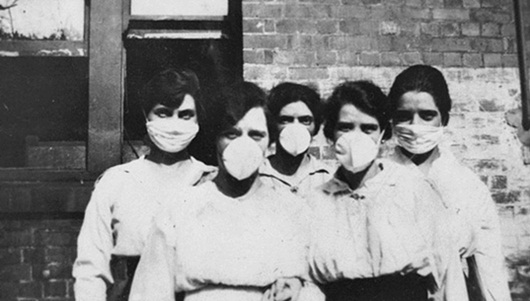 I have the flu. Yep, after 10 years of living in Bangkok, I have the flu. The first time I've had the flu in Thailand in, well, ……… ever.
I'm guessing I probably caught it from someone, possibly one of the many foreigners I came across while on a trip to the Immigration Department this week as, other than that, I've barely left my house. But, I woke up this morning feeling achy, with a massive headache, a throat that feels like it has a boulder stuck in it and, yes, a streaming nose.The cough will come on later. I don't feel well.
Weirdly, getting the flu in Thailand has been something that has never happened to me. I say 'weirdly' as, when I lived in the US, I got the flu at least twice a year. Sometimes more. In Thailand? Nope. Never had it.
In fact, overall, I'd have to say I'm far healthier living in Thailand than when I was living in the US. I never get food poisoning (again, I got it several times a year in the US), I don't get the flu and, as fresh fruit, vegetables and fish are so cheap to buy in Bangkok I tend to eat a lot healthier too.
If you are worried about getting the flu in Thailand, you may be wondering about flu shots. Do you need a flu shot and, if so, where should you go to get a flu shot in Bangkok or anywhere else in the kingdom?
Getting a flu shot in Thailand is not something I would necessarily recommend. Not that there's anything wrong with it but, in the vast majority of cases, you simply won't need it.
As it stands at the moment, the Thai government is planning on giving flu shots to around 400,000 people this year but most of those are pregnant women, people with chronic diseases, people in the medical field who are exposed to viruses more, and the elderly.
The only reason Thai medical authorities are even bothering with this number of flu shots is because of the flu epidemic currently affecting the US. With global travel the way it is nowadays, they want to make sure too many flu cases don't occur in Thailand due to infection from someone from America.
Surprisingly, death rates from the flu are also often higher in American than in Thailand. For instance, while 28,747 people in northern areas of the United States have currently come down with the flu, more than 20 have already died.
In Thailand, with more than double that number of flu cases last year (61,296 people – and that's country-wide and not area-wide like in the US, which has a far higher number of flu cases per year), only 3 people died. Now, if I'm going to get the flu, for some reason I'd rather get it in Thailand.
If you do want to get a flu shot in Bangkok or anywhere else in Thailand though, most hospitals will have it. The current charge for a flu shot in Thailand is around 900 baht or $31 but, at some hospitals, you will get a reduced rate or get the vaccine free if you can prove you are retired.
As for good Thai hospitals, if you haven't been to one before and want to go where staff speaks English and you'll be treated well, I highly recommend Paolo Memorial Hospital near the Saphan Kwai sky train station. I've been there several times, had superb treatment and they usually even assign a fluent English speaker to take you around the hospital so you never have problems understanding what's going on or getting the correct treatment.
Meanwhile, I'm going to go and make myself a nice cup of Ya-Hom. While it may be a Thai herbal remedy for nausea and stomach, it just always makes me feel better. Flu? What's that?