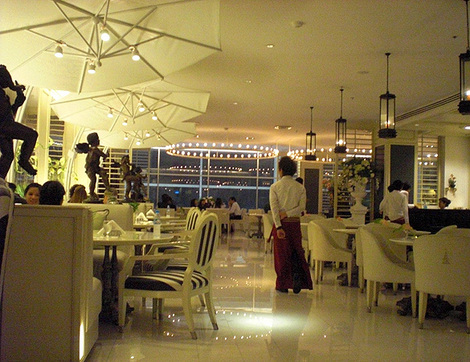 Several years ago, I was at Central World Plaza mall in Bangkok, Thailand and discovered a gorgeous Vietnamese restaurant. A few weeks later, I went back to the mall to eat there but couldn't find it again. Ever since, due to the enormous size of the mall, I've never managed to find it. Imagine my surprise then, when I met a Thai friend for dinner at Central World Plaza recently and we ended up at the same Vietnamese restaurant. Named Gia Long Cuisine, it serves traditional Vietnamese and Thai food, as well as several western-style dishes. Gia Long Cuisine is a gorgeously designed restaurant and, even if the food wasn't so delicious, which it is, it would still be a lovely place to eat.
Gia Long Cuisine Style – Located at one end of the huge Central World Plaza mall on the sixth floor, Gia Long Cuisine is large with enormous floor to ceiling glass windows. The first things you notice are the three sets of comfortable black and white striped armchairs in the window, all surrounding little tables. Behind the armchairs are booths and small tables, set out in a white and very light restaurant, made even brighter with large chandeliers and lights and a cream marble floor. The whole restaurant exudes a feeling of space and, even when eating, you're so far away from other tables you have complete privacy.
Gia Long Cuisine Food – The menu is quite small, with fifty percent of the dishes being Vietnamese, most of the rest Thai food and with a few western spaghetti dishes thrown in. We decided to order Vietnamese cuisine as, not only is it what the restaurant is known for, it's low-fat and extremely healthy. We ordered grilled pork and pho noodles, another dish of pork, bananas, and vegetables served with large leaves of lettuce to wrap everything in and several sauces, and Vietnamese spring rolls. Everything arrived less than five minutes after ordering and it was all incredibly fresh.
The spring rolls were superb. Crisp, perfectly rolled and, with the sauce, just slightly tangy and spicy. The grilled pork was cooked to perfection and the lettuce-wrapped pork was difficult to stop eating. With just three dishes, it didn't seem like a lot of food but, with the huge vase of complimentary vegetables and dipping sauce they also give you, we soon found ourselves quite full. The restaurant also has a small dessert menu that looked delicious, but we were so full there just wasn't room.
The Staff – Pleasantly attentive, but not too much, the Gia Long Cuisine staff offer perfect Thai service without being too much in your face. Orders were taken quickly and cooked and served in no time. Water glasses were filled and re-filled but in a way you hardly noticed. Once we received the bill and had paid, we were thanked quietly and sweetly and told to come again, then left alone to take our time to leave.
Sometimes in Thai restaurants, the service is just too attentive and too pushy once you've paid. At Gia Long Cuisine it's a perfect mix between enough to get what you want, but not so much that you really wish they would leave you alone.
Prices at Gia Long Cuisine – For such a lovely and elegantly designed upscale restaurant, prices are cheap. We ordered three dishes, that arrived with larger portion sizes than we expected, as well as a bottle of drinking water. The total bill for two was 470 baht ($15.65). Not bad at all. Prices for entrees ranged from 100 baht ($3.30) to around 200 baht ($6.85) with sets (a main entree plus several side dishes) only 280 baht ($9.30), and it's a lot of food.
Gia Long Cuisine is a quiet restaurant  (no loud music or conversation) that serves fresh, succulent Vietnamese cuisine, and has friendly and unobtrusive staff. Now that I've figured out where it is, I'll be eating there again. Soon.
As for you, if you want to enjoy wonderfully fresh authentic Vietnamese food, either call the restaurant before to get directions, or ask at the information booth in the mall. They'll point you in the right direction.
Gialong Cuisine
6th Fl, Central World Plaza Mall
Rajdamri Rd
Bangkok, Thailand
011 (+66) 0-2255-9654