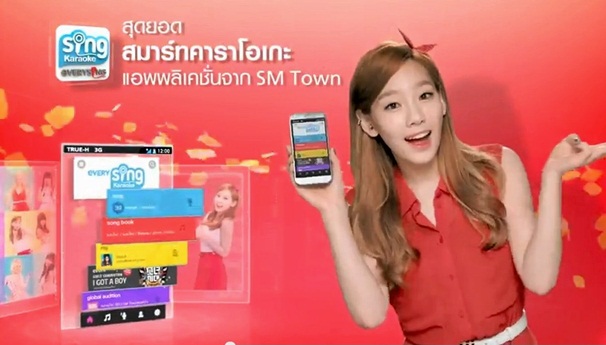 Korean pop sensation, Girls' Generation, are the newest spokespeople for 'True Beyond', brand name smartphones and tablets from True Move. The nine girls (Taeyeon, Jessica, Sunny, Yuri, Hyoyeon, Tiffany, Sooyoung, Yoona and Seohyun), have an extremely cute video up where they not only speak Thai but sing in English and show off the True Beyond smartphones and tablets quite nicely, thank you.
For anyone interested in buying a 'True Beyond' smartphone or tablet (whether you're a fan of Girls' Generation or not), according to this morning's newspaper here are some of the details:
The True Beyond 4G Smartphone will be selling for 9,990 baht ($337) — a lot cheaper than the comparable Apple, I might add. It has a rear camera, a front camera, a Quadcomm Snapdragon Dual Core CPU and a 720HD 4.3 inch screen.
The True Beyond 3G Smartphone sells for 6,590 baht ($222). It has a 5 inch screen, front and rear cameras and Quad Core 1.2 GHz CPU.
The True Beyond Tablet (something I'd be interested in, although I have a feeling the Acer will likely be better?), will be 4,990 baht ($168) and comes with a 7 inch screen, a rear camera and a Dual Core 1.2 GHz CPU.
All of these will be on sale at True Move from June 16th, 2013.
If you read Thai, you can find out more about the True Beyond smartphones and tablets at True Move's website (God knows why they don't put their advertisements in English on their website? Particularly as they are already being shown in English-language newspapers in Thailand? But, that's True Move for you).
Meanwhile, enjoy the new Girls' Generation video, with the girls showing off True Beyond smartphones and tablets all against a Thai-style background. Yes, they're very cute and personable and, I'd say, True made a great decision in choosing them as spokespeople. They'll probably help them sell a lot of phones.