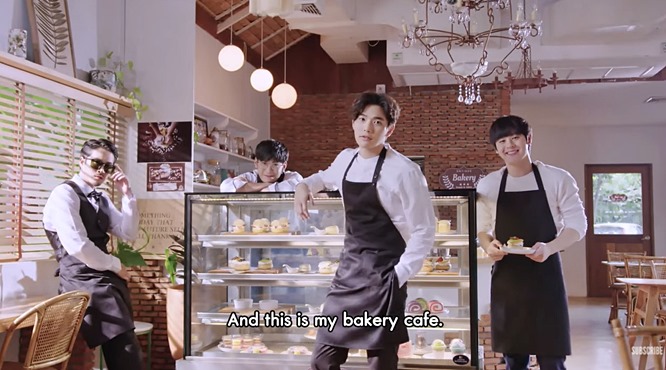 If you know anything about Thai girls you know, if there is a TV show with cute boys, half of Thailand's female population will be watching it.
No wonder then Thai production company GMMTV will be creating a live-action series based on the manga series Antique Bakery by Fumi Yoshinaga. A series with some of the cutest boys in Japanese manga.
The upcoming Thai show is to be called Baker Boys ,and will star a slew of currently popular young Thai actors.
The characters' names have also been changed from their Japanese names to Thai.
That means Thanat Lowkhunsombat will play a character called Poon (Keiichiro Tachibana in the Japanese manga), Prachaya Ruangroj will be Weir (formerly Yūsuke Ono), Purim Rattanaruangwattana is Krating (the Japanese Eiji Kanda), and Pat Eksanegkul is P'Pooh (otherwise known in Japan as Chikage Kobayakawa).
GMMTV also released a Baker Boys trailer today (watch below), and even I have to admit the boys look incredibly cute.
Of course, in the comments though, 90% of the women posting are commenting about Singto (aka Prachaya Ruangroj — aka ปราชญา เรืองโรจน์ in Thai ), as he is one of Thailand's current heartthrobs.
So yes, Baker Boys in Thailand will be a huge success because…Singto.
As for the story of Baker Boys, it goes something like this:
Kidnapped as a child, Keiichiro Tachibana's had trouble coming to terms with the haunting memory. He doesn't remember much, only that the kidnapper forced him to eat sweets. As a way of dealing with his past, Tachibana decides to open a bakery. But will his choice in staff – a playboy patisserie who's been fired from every job he's ever had, an ex-boxer with a huge sweet tooth, and an absent-minded childhood friend – be a recipe for disaster or success?
The Baker Boys live-action series in Thailand will not be its first either.
Japan is two decades ahead of Thailand on this, having released their live-action series based on the manga back in 2001. South Korea also did the same eight years later.
No word yet on exactly when the Baker Boys live-action series will be released in Thailand, but it is airing sometime in 2021.
Interestingly too, the trailer for it comes with English subtitles. Hell,  I'm not even the demographic this cute boy series will be targeting, and I'm sold.
Watch it below.