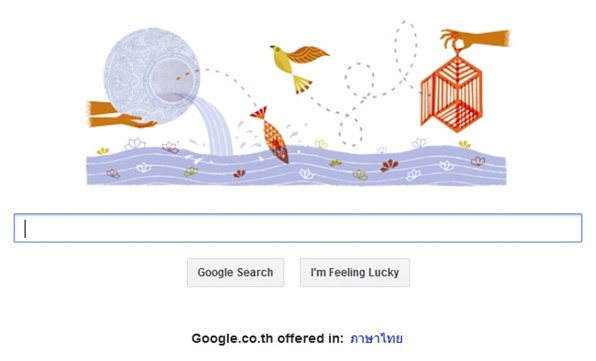 The Google Thai Songkran 2013 doodle has gone up on Google search and, this year, it shows two traditional Thai customs. In it, you can see the traditional Songkran customs of releasing fish into stream water and releasing birds from their cages in celebration of the Thai New Year.
Both of these creatures seen in the Google Thai Songkran 2013 doodle are bought at markets all over Thailand and then released into the wild over Songkran as this kind act is traditionally thought to bring good luck and great merit.
Interestingly, as is often the case, the releasing of fish at least comes from an event in Thai history.
For hundreds of years, rural areas of Thailand have flooded during the country's long rainy season. When the floods eventually go down, they usually leave thousands of fish stranded in small pools that are rapidly drying up.
In the past, the fish would often be rescued by villagers or by children of the village and kept in water at home. Then, when Songkran arrived, the fish would be released into now-normal-flowing streams, ensuring fish life was kept at normal levels and thus also ensuring fishing stocks, ie: an important food supply, for the villagers themselves.
Other traditional Songkran customs in Thailand include pouring water over the hands of parents and elders, as a sign of how much you respect them. The parents and elders, in turn, then bless the person pouring the water who it is then believed will have a lucky New Year.