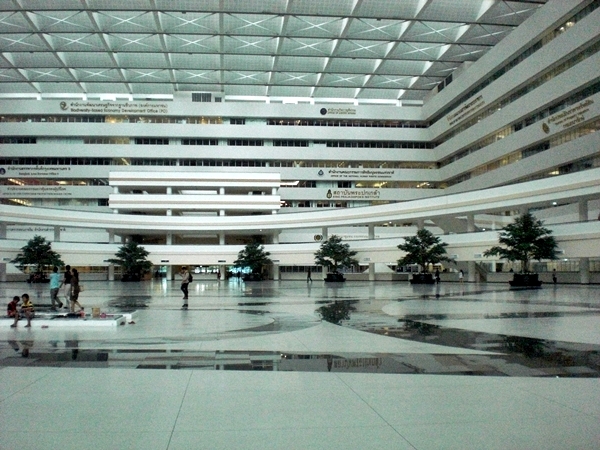 Whenever I go to the relatively new Government Office Center Complex just off Chang Wattana Road in Bangkok, Thailand, I'm blown away by how absolutely huge this building is. Large from the outside, with huge photographs of Thailand's King Bhumibol Adulyadej on several sides, when you actually get inside the Government Office Center that's when it hits you how enormous this building actually is. In fact, if it's not the biggest building in Bangkok, at least one that's not a high-rise, it's close to it.
According to the EEC Engineering Group who designed it, the Bangkok Government Center Complex' construction area was 1 million square meters, with another .4 million square meters for roads and landscaping.
The building was also built as a "Sustainable Building", taking into consideration green engineering concepts — something that seems to be happening more and more in Bangkok in recent years. It even uses a concept called "pond cooling", whereby it uses the water from the surrounding man-made ponds to keep the building at lower temperatures throughout the day — a feat in itself in stiflingly hot and humid Bangkok.
The Bangkok Government Center Complex, by the way, houses many of Thailand's main governmental organizations. Organizations like the Biodiversity-Based Economy Development Office, the Bangkok Area Revenue Office, the Office of the Consumer Protection Board and, of course, the Bangkok Immigration Office all have their offices here.
When the Immigration Office first moved to the Chang Wattana Complex, I must admit I was a little irked as it seemed it was going to take longer to get there. In fact, it's actually closer than going downtown to the old Immigration Office on Soi Suan Plu and, as it's such a beautiful building and packed with banks, shops and a market, it actually makes going to Immigration a lot more pleasurable nowadays.
If you ever have cause to head to the Government Office Center Complex in Bankgok, you'll find it at the end of Chang Wattana, Soi 7.
By the way, this is the EEC Engineering drawing of what the complex looks like and, yes, it really is absolutely beautiful.