Over the years I've lived in Bangkok, Thailand, I've eaten at branches of Greyhound Cafe a number of times. It's been a couple of years since I've eaten at one, though, so I was happy when Thai friends suggested we meet for dinner at the branch of Greyhound Cafe at Siam Paragon in Bangkok. What I hadn't remember, however, was just how delicious the food always is at Greyhound Cafe and yet still so reasonably priced.
Three of us ordered three appetizers, three entrees and Thai iced lemon tea. For entrees, we had an order of tomato bruschetta, a plate of Greyhound's amazing thick home fries (they taste like curly fries) and fresh salmon sashimi in spicy hot sauce. Yum.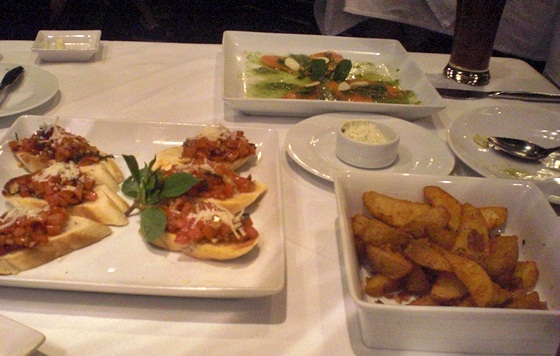 The tomato bruschetta (they also serve Lab Moo (pork) or Lab Kai (chicken) but I'm a vegetarian) was incredible — the best I've ever eaten. The home fries were piping hot, thick, and sprinkled with a perfect blend of sea salt and parsley and soooooo delicious.
The salmon sashimi is a favorite at Greyhound Cafe, and one of my Thai friend's most-loved dishes as well. It's cut into paper thin slices and served with olive oil and garlic. Perfect.
For entrees, one friend ordered spaghetti with Thai style pork balls, the other had fried rice with Italian anchovy and dried shrimp. My entree was one of the dishes I always seem to order at Greyhound Cafe, as it's just so tasty — spaghetti olio, with mushrooms and chilies.
Three drinks — one lemon soda and two 'cha manao' — Thai lime iced tea, and the whole bill was only 1,460 baht — or 485 baht each (around $16.30). To say this is an upscale restaurant and one of Bangkok's most popular, it's still incredibly cheap and, yes, portions at Greyhound Cafe are huge.
You can check out Greyhound Cafe's amazing menu at their website, including a price list of each item and the most beautiful photographs. I stole the salmon sashimi photograph below (hope they don't mind!) as it just looks so much prettier than the one I took and I want you to see how truly beautifully presented their food is.
Don't forget as well, Greyhound Cafe at Siam Paragon has a Sweet Hound by Greyhound dessert cafe right next to it. If you're just feeling like a bite of a dessert and a coffee, I highly recommend it.