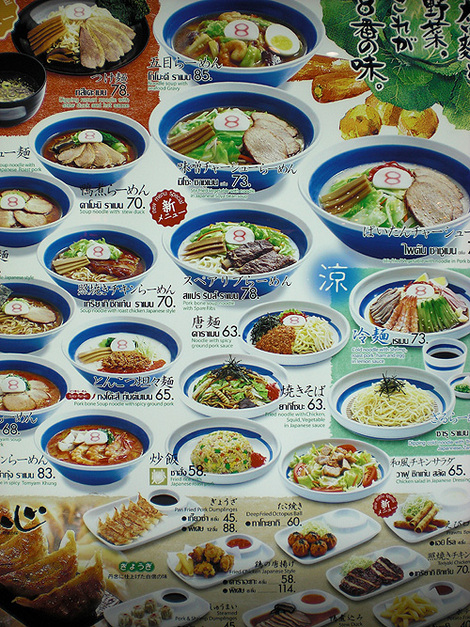 Hachiban Ramen is the most popular chain of cheap noodle restaurants in Bangkok, Thailand. Originating in Japan, where the word 'hachiban' (Japanese for '8') comes from the eight shops on the road from Toyama to Osaka, Hachiban Ramen noodle shops serve amazing noodles at a dirt cheap price.
The Atmosphere and Staff at Hachiban Ramen – All Hachiban Ramen noodle shops look the same. Quite basic in design, there's a yellow logo with the number '8' on it on the outside of the shop and, inside, simply basic (yet comfortable) booths. The kitchen is slightly raised and is open, so you can see the chefs cooking food while you wait.
The staff at Hachiban Ramen is usually young, but they are efficient, friendly and helpful. Food arrives quickly and, in more than 50 visits to various Hachiban Ramen locations, I have never once been served food I didn't order or had any problems with the staff.
The Food at Hachiban Ramen – Thais, just like most Asians, love noodles. Usually eaten every day, Thais will line up at a restaurant serving good noodles, which is why you have to arrive early at Hachiban Ramen if you don't want to stand in line.
Hachiban Ramen serves a small menu, consisting of around 20 different styles of noodle dishes, around 10 types of appetizer and drinks like Pepsi, water and iced teas. Food is served quickly, only a couple of minutes after ordering, and as it's cooked fresh every time, it's piping hot too.
Appetizers include deep fried octopus balls, pork dumplings (my favorite and a must-order), and fried chicken Japanese style.With noodle dishes ranging from soup noodles with stewed duck to pork bone soup noodles with spare ribs there's plenty of noodle choices for any noodle lover and, every one is delicious.
Try the fried noodles with chicken, squid and vegetables in Japanese sauce, noodles with spicy ground pork sauce, or the noodle soup with seafood gravy.
My favorite is the stir fried vegetables with noodles in pork broth. It comes in a hot, thick, satisfying pork broth and consists of perfectly cooked noodles, crisp, fresh vegetables and three large slices of pork.
Portions at Hachiban Ramen are huge, so just one bowl of noodles is a satisfying lunch or dinner for most appetites.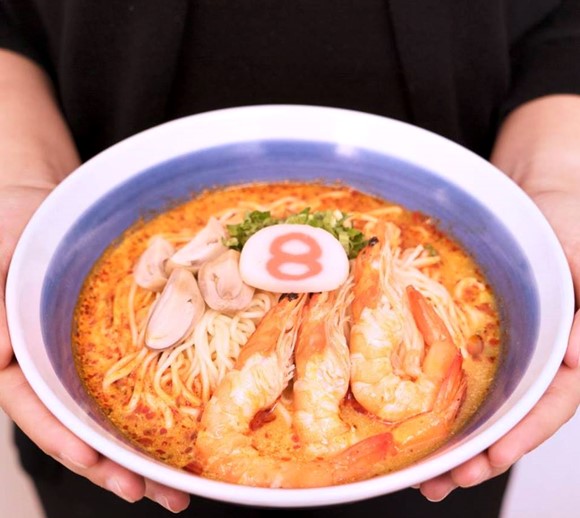 Price at Hachiban Ramen – Prices are dirt cheap, particularly when you consider the large size of the noodles and appetizers. Most appetizers range from 45-60 baht ($1.40-$1.90) and an average bowl of noodles is 65-70 baht ($1.97-$2.15).
I ate at Hachiban Ramen last week with a Thai friend and, for a shared pork dumplings appetizer, two bowls of noodles and bottled water, the total bill for both of us was 205 baht ($6.40) – an extremely inexpensive meal.
Locations of Hachiban Ramen shops – There are many Hachiban Ramen noodle shops, in fact, there's usually one or more at every mall, plus others on stand-alone sites throughout Bangkok.
My favorite shops are at Esplanade mall and at MBK mall, but you will also find them at Central World Plaza, many Tesco Lotus locations, Rama IV road, Central Ladprao mall and other locations. Just look for a logo comprised of a yellow oval with the number 8 in red inside it and that is Hachiban Ramen.
For a fast, cheap and satisfying meal, you can't beat Hachiban Ramen. Every restaurant is clean, the staff are friendly and the food is delicious. Much of what they make is also not typically Thai spicy, so it's a perfect place to eat if spicy food is not your thing.