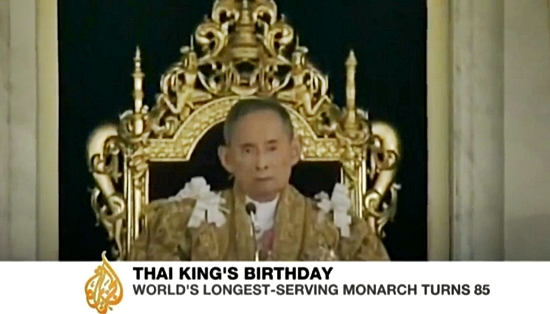 Today is the 85th birthday of Thailand's king, King Bhumibol Adulyadej and hundreds of thousands of Thais hit the streets of Bangkok early this morning to celebrate.
More than 200,000 crammed into the streets and avenues around Ananta Samakhom Throne Hall in downtown Bangkok as His Majesty sat on a throne on the hall's balcony to give his birthday speech.
During his speech, he spoke once again of the need for unity for all Thais, saying that goodwill and compassion for all was vital for the well-being of the people and the country.
The entire birthday celebration was broadcast live on Thai television channels, where millions more Thais all over the country watched.
Almost every Thai wore yellow shirts in honor of the King's birthday, and stayed calmly silent as he spoke.
Afterwards though, as his car moved slowly through Bangkok's city streets, all you could hear for miles was Thais shouting "Song Phra Chareon, Song Phra Chareon (Long Live the King, Long Live the King)" as the King made his way back to Siriraj Hospital where he has been living for the past three years since he was taken ill with a lung infection.
The last time King Bhumibol appeared on the balcony of the Ananta Samakhom Throne Hall was in 2006, when he celebrated his 60th year anniversary on the throne, so today was an incredibly special occasion for all Thais, and one in which they were all happy to celebrate.
During his balcony appearance, members of the royal family were by his side including Royal Highness Crown Prince Maha Vajiralongkorn, Her Royal Highness Princess Maha Chakri Sirindhorn and HRH Princess Chulabhorn.
Her Majesty Queen Sirikit, however, was unable to attend as her doctors said she was too weak to stand for a long period of time, which is not surprising in Bangkok's incredible heat.
Thais, of course, love their King and are proud that he is not only a good king, but that he is also the world's longest reigning monarch with currently 66 years on the throne of Thailand.
We wish His Majesty, King Bhumibol Adulyadej, a very very happy birthday and all our best wishes for the future.