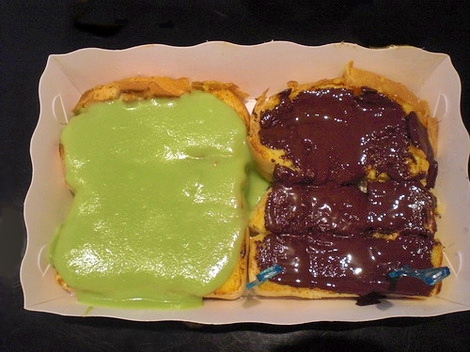 Heads or Tails is a 'bread and milk restaurant' located in the basement of Siam Paragon mall in Bangkok. Thailand. If you've never been to Thailand, you'll likely have no idea what a 'bread and milk restaurant' is but, let me tell you, they're just about the most popular breakfast and dessert places in the country.
At a bread and milk restaurant like Heads or Tails, they serve nothing but bread and milk products – drinks are all milk-based (iced coffees, Ovaltine, hot chocolate, hot milk, hot milk, Thai iced teas), with food being a choice of sweet custards poured onto slices of toasted bread and served warm. Deceptively simple and incredibly cheap, Thai toasted bread with custard is one of the most delicious Thai breakfasts or desserts and Heads or Tails serves some of the best.
Where is Heads or Tails? – Heads or Tails is a small Thai chain of 'bread and milk restaurants'. The one I've eaten at lately is one of their most popular locations – in the basement of Siam Paragon mall, right across from the Gourmet Market supermarket – but there are locations all over Bangkok.
What Does Heads or Tails Serve? – Uniquely Thai, if you've never seen a bread and milk restaurant, you're probably thinking "Huh?" Why would anyone pay to eat bread and drink milk but, no, it's so much more than that. It's a traditional Thai breakfast food or dessert food that's loved by everyone in Thailand, from one year-olds up to great-grandmothers.
When you walk up to the counter of Heads or Tails, you're faced with a large menu of items along with five or six boiling vats of hot custards. The restaurant basically serves two things – toasted white buttered bread slathered with a warm Thai custard and a slew of milk-based drinks.
Customers choose the food first, then add a drink to their order. Food is simple – a thick slab of buttered toasted white bread, with a warm custard poured over it. It's then cut into small cubes and served in a cardboard container with teeny tiny plastic forks, to be used to pick up the cubes of custard-soaked bread.
Choices of custard range from warm chocolate to warm pandamus (a green custard made from the pandamus leaf and absolutely delicious), taro (a root vegetable that's made into a custard and sweetened), peanut butter, condensed milk, butter and sugar, vanilla butter and more.
Milk drinks vary from typical hot lattes and espressos to iced green tea drinks, Ovaltine, hot chocolate, warm milk and honey, tea and honey, strawberry milk and Thai iced tea. You place your order, your bread is toasted and a scoop of warm custard is poured over it, then it's brought to your table along with your drink and you luxuriate in heaven – literally.
I particularly love Heads or Tails as, unlike some Thai bread and milk restaurants, I don't find their custard too sweet. When I eat there, I usually order a Thai iced tea along with two slices of toasted bread – one smothered in chocolate and one in sweet green pandamus custard (see photo above). The bread is toasted perfectly and the topping is thick, sweet and deliciously warm. For breakfast or as a dessert or sweet snack, it hits the spot every time.
Prices at Heads or Tails – Another reason Thai bread and milk restaurants are so popular is the inexpensive price. At Heads or Tails, a slice of bread with custard is 25-30 baht (85 cents to $1) depending on what you order, and drinks are 50 baht ($1.75).
So, for just a couple of dollars, you can sit and chat with friends, enjoy a tasty sweet treat and a refreshing drink and then head off back on your daily shop – refreshed and ready to face the crowds again.
If you want to try a bread and milk restaurant next time you're in Bangkok, you can't go wrong with Heads or Tails. Cheap, tasty and not too fattening, their toast and custards are superb and their little restaurant one of the coolest and most hip dessert restaurants in downtown Bangkok.