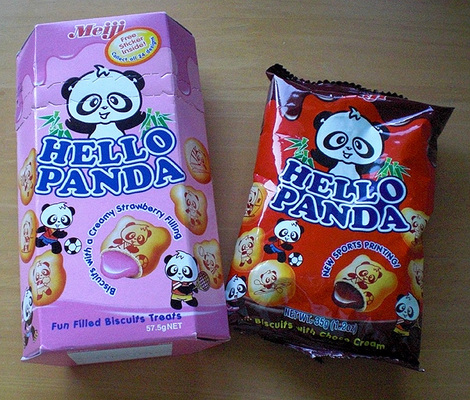 One of Thailand's top cookie snacks is a cream-filled cookie or biscuit called 'Hello Panda'. Available in Thailand and all over Asia, they're originally a Japanese cookie made by Meiji Seika,. The Hello Panda biscuits in Thailand though are actually manufactured in Singapore by Meiji, so taste a little different and are much cheaper than the imported Japanese version. Cheap, delicious and low-sugar compared to many other biscuits, Hello Panda cookies a wonderful snack for kids and adults alike.
What Are Hello Panda Cookies/Biscuits? – Hello Panda cookies or biscuits are bite-sized hollow shortbread cookies that are stuffed with a cream filling. Available in chocolate, strawberry or milk cream, a packet or a box of these cookies is a wonderful snack. The cookies have pandas doing all kinds of sporting activities printed on each cookie, which is where the name comes from. Each cookie is less than 3/4 inch, so several cookies is only a mouthful. Meiji makes them with less sugar than many comparable cookies, so for kids they're a little more healthy than a regular chocolate cookie or a candy bar.
What Do Hello Panda Cookies/Biscuits Taste Like? – Surprisingly, Hello Panda cookies are not that sweet. The shortbread mix used to make the hollow cookies has less sugar added than regular cookie mix so, even with the added chocolate, strawberry or milk filling, the cookies are still only mildly sweet. They also have a satisfying crunch when you bite into them, followed by the creamy filling being released and mixing with the cookie in your mouth. Scrumptious! My favorite Hello Panda cookies are the chocolate-filled ones (great with a cup of coffee!), and these are also the top selling Hello Panda cookies. The strawberry are a little sweeter, but still delicious. I haven't tried the milk-filled cookies yet, but the Thai kids I used to teach loved them.
How Much Are Hello Panda Cookies/Biscuits? – In Thailand, Hello Panda cookies come in two different sizes. Either a small packet of 1.2 oz (35g) or a hexagonal box that's 57.7 g (2.3 oz). The small packets cost 11 baht (30 cents) and the larger boxes are 24 baht (70 cents). The smaller packets are actually a better deal though, as they're cheaper by weight than are the bigger boxes. The three flavors come in both sizes. You can also buy them in larger boxes or tins if you have a family who would love them.

Where Can I Buy Hello Panda Cookies/Biscuits? – In Thailand, they're available at 7-11s, supermarkets like Carrefour, Foodland and Big C, as well as at drug stores like Watson's and most convenience stores.
In the US, many of the Asian supermarkets sell them and you can also buy them on EBay, although sellers on EBay charge a lot more for these than they're worth plus postage, so use EBay as a last resort. Of course, Hello Panda biscuits in the US will be more expensive than what we pay for them in Thailand.
Ingredients for Hello Panda Cookies/Biscuits – Wheat flour, vegetable shortening (partially hydrogenated palm, soybean and canola oil), sugar, whole milk powder, malt extract, seasoning (natural), emulsifier, leavening, salt, enzyme artificial flavoring.
Hello Panda cookies/biscuits are a great snack and not too fattening. The small 1.2 oz packets have 163 calories, with the 2.3oz hexagonal boxes around 360-390 depending on the flavor.