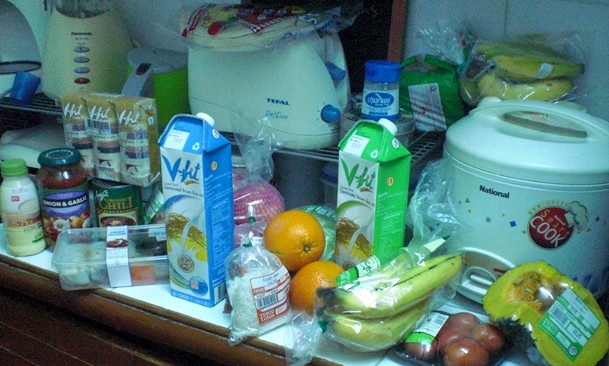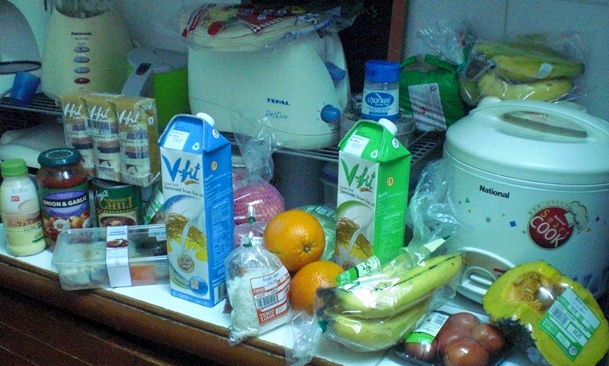 Buying vegan food in Bangkok
Since I began writing about my change to a vegan diet a few days ago, I've had a couple of people e-mail me asking 'How easy is it to buy vegan food in Bangkok, Thailand?'. In response, I've been happy to be able to answer "It's much easier to buy vegan food in Bangkok than I ever would have thought".
In just the week and a half I've been looking for vegan food in Bangkok, I've found it incredibly easy to find. Fruit and vegetables, of course, are sold everywhere — street markets, supermarkets, small mom and pop stores and even a fruit van and a vegetable van that come down my soi in Bangkok four or five times a week.
In fact, I'd guess buying fruit and vegetables in Bangkok is not only the easiest thing ever, but they are also far cheap than in most western countries and, of course, fresher.
Vegan breads, chillis, rice and soy milk in Bangkok
As for buying things like vegan bread in Bangkok, I've found a couple of breads at my local TOPS supermarket that are vegan as well as one brand of bread at Villa Supermarket.
I have also discovered a Thai brand of flour tortillas that are nice and, although I was only able to buy the white flour variety, a friend told me she has seen wheat flour tortillas at Gourmet Market at Siam Paragon in downtown Bangkok. You can also easily buy pita bread — white and wholewheat — at most of the major upscale supermarkets as well as at several ethnic grocery stores around town.
Soy milk, rice milk and coconut milk is easily available at every supermarket in Thailand. You can also buy soy milk and rice milk made fresh at local fresh markets all over the city, and for as little as 5 baht a bag (around 16 cents a bag).
Amy's vegetarian and vegan products in Bangkok
Yesterday, I easily found a whole slew of Amy's vegetarian/vegan products in Bangkok, both canned and frozen — things like vegan organic chili, refried beans, vegan soups, frozen burritos, Amy's California veggie burgers and more. TOPS supermarket sells them, Villa Supermarket carries a few of Amy's products, as do some of the upscale supermarkets at malls like Siam Paragon, Emporium Mall and Central World Plaza. Just shop around and you'll figure out quickly where you can buy them.
Many food courts in Bangkok have vegetarian food (Thais call it "Jay"), so you can buy curried vegetables, stir-fried vegetables and many other vegetable dishes served with either white or brown rice, and some are completely vegan.
Vegan food courts and restaurants in Bangkok
There are also quite a few good vegetarian and vegan restaurants in Bangkok, as quite a few Thais are vegetarian or vegan.
If a restaurant doesn't have a vegetarian or vegan menu, most Thai food can be adapted to a vegan's needs and, as almost all food in Thailand is made from scratch in a restaurant you can request it is made 'vegan'.
All you need to say in Thai is "Gin jay", (the 'gin' is pronounced with a hard 'g' like in the English word 'gone'), which means "I eat vegan", or point to a dish and ask "Tam a-haan jay die my?" ("Can you cook the food vegan") and most restaurants can and will.
See! Eating vegan foods in Bangkok doesn't have to be difficult at all and they sure are nice, fresh and cheap.