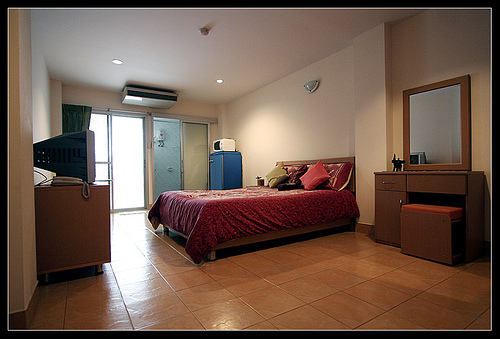 Westerners moving to Bangkok, Thailand often want to know what's the rent of an average apartment in Bangkok. That's actually not an easy question to answer as there are all types of apartment for all types of budget, depending on how much you want to spend on rent and where you want to live.
For a breakdown of each apartment rental type though, and the average cost you can expect to pay, read on.
4,000 Baht Per Month or Less – For 4,000 baht per month, approximately $135, there are varies options for renting an apartment in Bangkok, Thailand.
Between 2,500-4,000 baht per month ($84-$120) will rent you a one room 'apartment' in a Thai-style building. The buildings are usually clean and well taken care of, and some have security too. However, your 'apartment' will be a one-room box with a Thai-style bathroom.
A Thai-style bathroom is one where the shower head isn't separated from the rest of the bathroom. This means it wets the entire bathroom, including toilet and sink, when you shower under it and you'll be paddling for a couple of hours afterwards every time you go into the bathroom, until the water has time to drain. (Personally, I couldn't live with a Thai-style bathroom for longer than a couple of days, but a lot of westerners in Bangkok do).
Related: What is the cost of living in Bangkok, Thailand for a couple?
The room will usually have a refrigerator but no cooking facilities. You'll have to do what the Thais do and buy a small gas grill (like a camping stove), which they use to cook outside on the balcony. These rooms are available in either downtown Bangkok or out in the suburbs. The further into the suburbs you get, the cheaper the price.
These rental apartments in Bangkok always come fully furnished.
4,000 baht per month can also get you a 4-room townhouse in what the Thais call a 'moobaan', a sub-division, if you're willing to live out in the boonies, a long way from downtown Bangkok.
These are unfurnished though, usually, so you'll have to spend a few hundred or a few thousand dollars outfitting the place – which is fine, if you plan on being in Bangkok permanently.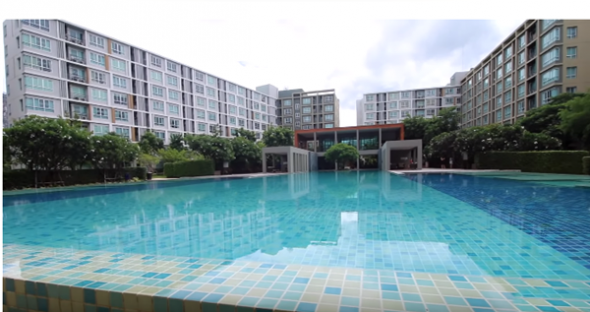 5,000-12,000 Baht Per Month – For 5,000-12,000 baht per month ($169-$406), you're looking at a much nicer lifestyle. Depending on the area you live in, you can rent either a one or two bedroom apartment, with kitchen and usually western-style bathroom.
5,000 baht per month will get you a one bedroom apartment at the far end of the sky train, around 20 minutes from downtown Bangkok. 12,000 will get you a one to two bedroom apartment in a lovely building, close to a sky train route, with a kitchen, western style bathroom and probably swimming pool and gym.
These are all in the suburbs though, as there's little in this price range in downtown Bangkok, unless again, you want a one-room box.
Related: What is included in a rental apartment in Bangkok, Thailand
I pay 10,000 baht a month ($338) and have a large one-bedroom apartment in a serviced apartment building in the north of Bangkok, five minutes by taxi from the sky train. This means, it comes with cable TV, twice weekly maid service, and security. A serviced apartment of this caliber in downtown Bangkok though would be between 25,000-30,000 baht a month ($847-$1,020), so you can see the difference in rent, depending on location.
5,000-11,000 baht per month will also rent you a larger town house in the suburbs of Bangkok and, for around 11,000, some of them are furnished also.
13,000-22,000 Baht Per Month – Now you're really getting into the 'nice' apartment range. For between 13,000-22,000 baht per month ($440-$745), you can move into a one bedroom apartment in downtown Bangkok, close to all the shopping malls, upscale restaurants and bars, as well as next to the sky train or underground lines. 22,000 baht may even get you a two-bedroom apartment, if you look carefully enough.
These will all be in western-style buildings with nice bathrooms, kitchen facilities and laundry facilities, as well as cable TV and internet access.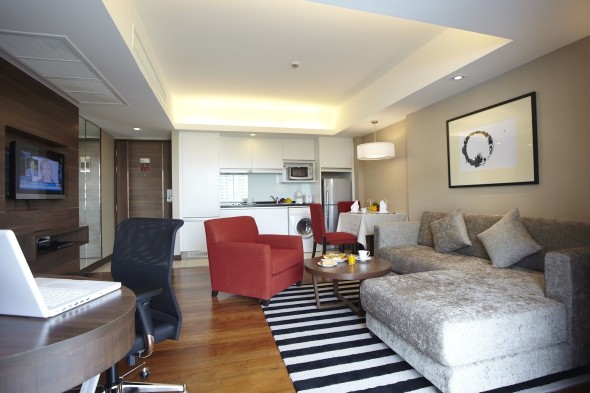 23,000-40,000 Baht Per Month – 23,000-40,000 baht per month ($775-$1,355) is getting into the truly luxurious realm with enormous western-style apartment buildings right in the center of downtown Bangkok. These apartment buildings have upscale restaurants, nice shops, travel agents, gyms, swimming pools and are ideally located for anywhere you want to go.
The apartments themselves are large, fashionably decorated and furnished and often with stupendous views.
Above 40,000 Baht Per Month – If you can afford above 40,000 baht per month ($1,355 and up), you're really going to be living in style and, above 60,000 baht rental fee per month, you're living in a two to three bedroom penthouse-style apartment with every luxury known to man. In fact, on 60,000 and above, you will really be living like a king.
Related: How to easily and quickly rent an apartment in Bangkok, Thailand
Don't forget, although many of these prices seem low compared to western countries, salaries are much lower in Bangkok too. With average Thai salaries being in the 8,000-10,000 baht per month range ($271-$338), and an average English teacher making 40,000 baht per month ($1,355), unless you're a true expat working for an international company on 200,000 baht a month or more ($6,700), you're more than likely going to be looking in the 4,000-13,000 baht range.
That means you'll still be renting a very nice apartment in a good area of Bangkok.