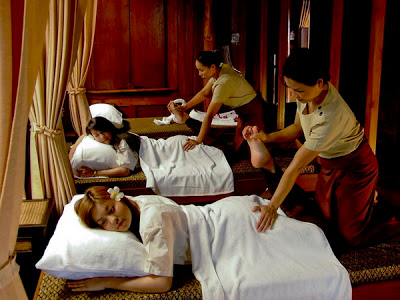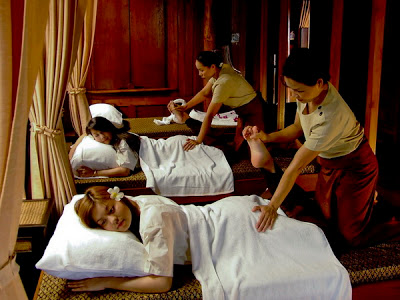 How much is a traditional Thai massage in Bangkok, Thailand?
One of the things many visitors to Bangkok want to do while on holiday or a business trip here is to have a traditional Thai massage. Now, I'm not talking about the 'massages' you get at some of the more dodgy massage parlors around town. The ones that feature half-naked girls and a happy ending.
Instead, I'm talking about traditional Thai massages that will have you laying on a massage bed for an hour, fully clothed, and being stretched and pummeled to within an inch of your life.
When it's over, though, you will feel like you exchanged your body for a newer and better one.
If you would like to have a traditional Thai massage the next time you're in Bangkok, where can you get one and, more importantly, how much can you expect to pay?
Because massages are expensive in the west, and you would probably like to be able to get a massage in Bangkok for a lot less money.
How much is a traditional Thai massage in Bangkok?
While traditional Thai massages in Bangkok come in a whole slew of price ranges, and some are as expensive as in the west, overall you should not need to pay over 450 baht an hour for a massage and, in many salons, you will pay less than that.
I don't pay more than 250 baht an hour when I have a massage, but I go to a variety of Thai massage salons and spas that are located in local Thai neighborhoods. The places where you don't see a westerner that often, and so will always get 'Thai price'.
If you don't want to wander around unfamiliar Thai neighborhoods looking for a massage salon, you can also find spas and salons that offer traditional Thai massages in shopping malls all over Bangkok — including MBK, Central Ladprao and the Mall Ngam Wong Wan in Nonthaburi — and here, again, you are not likely to need to pay more than 250 to 400 baht an hour.
That in US dollars works out at between $7.15 and $11.40 an hour.
Just be sure to shop around before you decide on a spa for a massage, and check the price list that is usually hung up in the window or close to the reception desk before you walk in and ask for a massage.
One place I will recommend is Ruen Nuad at 42 Convent Road in Silom. I had an hour's full body massage there and it was just 350 baht, an amount well worth how amazing I felt when I was finished. Oh, and it gets superb reviews on Trip Advisor.
Getting a traditional Thai massage at Wat Pho
Of course, the most famous and the best place to get a traditional Thai massage in Bangkok is at Wat Pho.
That is because Wat Pho is the top place in the country for would-be masseurs to learn traditional Thai massage and, once trained, they simply are the best of the best.
Related: President Obama meets King Bhumiphol Adulyadej and visits Bangkok's famous temple Wat Pho 
You may be surprised when you get a Thai massage at Wat Pho, as there is no privacy involved at all. Just you lying on a massage mat in an open-air pavilion with around 20 other people getting massages at the same time.
And, while the experience at Wat Pho may be 'communal', I guarantee this will be the best massage you have ever had. Anywhere. In your whole life.
So how much does a traditional Thai massage cost at Bangkok's famous Wat Pho?
420 baht an hour. Yes, just $12 for the world's best massage. And no, I am not exaggerating.
Wat Pho is located at 2 Sanamchai Road — the massage pavilion is open every day from 8am until 6pm. Just show up when you want a massage, as the wait is not usually too long.
What to wear for a traditional Thai massage in Bangkok?
One thing you need to know is you do not take any clothes off for a traditional Thai massage, as it is all done while you are fully clothed.
The main thing is to wear something very loose and very comfortable. I tend to wear baggy cotton pants and an oversized t shirt, but anything that is loose will be just fine.