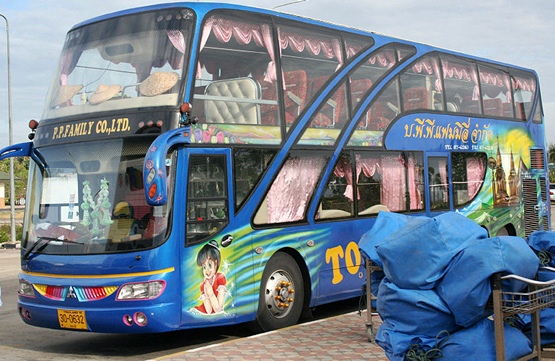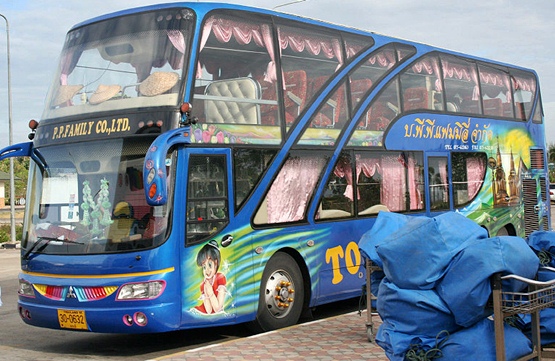 As a long-term resident of Thailand, let me first start by saying I've done more visa runs than I'd care to think about. That's because, in previous years, I was between jobs and so between work permits, which meant leaving the country on a visa run every three months until I started a new job.
Many people currently living in Thailand also don't work but aren't eligible for resident, marriage or retirement visas. Others work but aren't able to get work permits. What this means is, every year, tens of thousands of people from all over the world currently staying long-term in Thailand do visa runs like I did – a trip out of the country to get a new tourist visa, or a new 'Visa on Arrival' stamp on their return to Thailand.
If you too will be in the position of having to do the same thing, how much is the cost of doing visa runs or border runs in Thailand every year and how can you do it as cheaply and easily as possible?
Cost of 30-day Visa Exemptions – If you fly into a Thai airport and are a citizen of one of a list of countries, (US, UK, most of Europe, Canada and Australia are included), you are eligible to get a 30-day Visa Exemption. What that means is you have permission to stay in Thailand for 30 days and the Visa Exemption is free.
Technically, you could legally stay in Thailand as long as you wished, as long as you are not working, by simply leaving the country every 30 days, flying to a neighboring country and flying right back, and could do that as many times as you wanted to (yes, it is legal).
However, with the cost of flights to neighboring countries, even with the free Visa Exemption upon arrival in the Kingdom of Thailand, you would still be spending at least 96,000 baht a year on visa runs (8,000 baht per trip x 12 trips per year), which at almost $3,100 is extremely expensive.
Cost of 'Visa on Arrival' stamps – An even worse option is the 'Visa on Arrival' stamps, which are issued to citizens of an even smaller list of countries, 28 in total, who are not eligible for the 30-day Visa Exemption. These include countries like China, India, Estonia, Poland, Ethiopia and Taiwan.
A Visa on Arrival is issued at the airport or land border you arrive at, after you submit an application form, a photograph and a 1,000 baht fee. They are, however, only valid for 15 days, meaning you would need to get at least 25 of them every year just to be able to stay in Thailand legally for a year, if the Thai immigration even allowed that many, which is highly doubtful.
Cost per year? At least 25,000 baht ($806) for the visas alone. On top of that, you would also have to pay for at least 25 trips out of and back into Thailand, one every 15 days, so you could return and apply for another Visa on Arrival. As I said, a worse option and one that is very expensive indeed.
Cost of tourist visas for a year – A huge percentage of people who stay in Thailand long-term arrive in the country on tourist visas. This is by far the best way to be allowed to stay in the country legally, as long as you don't work while you're here. (If you want to work, you must get the applicable work visa and work permit as working on a tourist visa is not allowed).
So what is the cost of staying in Thailand on tourist visas for a year, and doing visa runs on those?
First, you will need to apply for two tourist visas. One when you first apply, and a second one at the end of the nine months term of your first one. Technically, giving you a total of 18 months legal stay in Thailand for just two tourist visas.
Here is how it works and the cost:
1. Apply for a 'Triple Entry Tourist Visa' before you leave your home country to travel to Thailand. Cost? Currently $40 per entry, so as you will be applying for a 'triple entry' the cost is $120.
2. Travel to Thailand and stay for 60 days. At the end of 60 days, you must go to an immigration office in Thailand and renew the tourist visa for an additional 30 days, for a total of 90 days. The cost for the renewal? 1,900 baht or approximately $62.
3. When the 30 days expires on your visa, you must do a visa run and leave Thailand so that you can come back across the border and get the second entry on your 'Triple Entry' visa activated. There are services that run visa runs all over Thailand. From Bangkok, it will cost you around 2,100 baht ($68), leaving early in the morning and arriving back mid-afternoon of the same day.
4. Once back in Thailand, repeat steps 2 and 3, leaving the country a second time at the end of your second 90 day stay to return and activate your third and last entry on your 'Triple Entry' visa. Cost again? 1,900 baht ($62) for your 30-day visa renewal and 2,100 baht ($68) for your visa run.
5. Stay in Thailand for your last 90 days, renewing your visa after 60 days at an immigration office (1,900 baht or $62). On the day your visa finally expires, you must leave Thailand and fly or drive to another country. Most people fly to places like Malaysia, Cambodia, Singapore, Hong Kong or Laos, where they can apply for a second 'Triple Entry' tourist visa at a Thai embassy, return to Thailand and do the process all over again for another nine months legal stay in Thailand.
6. So, how much is the total cost of visa runs and legal stays in Thailand if you do it on a tourist visa? Approximately, $442 for the initial cost of your first tourist visa, and 30-day visa extensions and two visa runs. Add onto this, the cost of flying to a neighboring country and applying for a second tourist visa which, at the cheapest price, will still be around $500, and your total cost for visas and visa runs for a year in Thailand will be approximately $942.