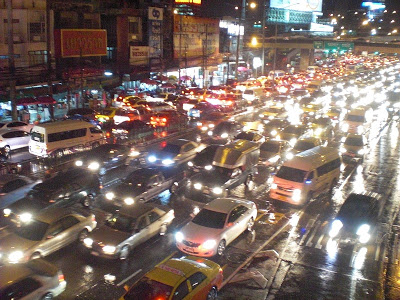 I recently went with a Thai friend and a western expat friend in Bangkok to register a used car the expat friend had just bought.
He had found a Honda on the internet and bought it but still needed to register it, so we went along to help (she to translate, me to watch!). If you're also planning on buying a used car in Bangkok, Thailand, don't worry, it's easy. Just make sure you follow all the Thai regulations and rules and you'll have little or no problem.
Where to Buy a Used Car in Bangkok, Thailand – My friend looked at several used cars in his neighborhood but finally bought one from the internet on ThaiCar. Thai Car is a website that has thousands of used cars put up by Thai car dealers.
Sure, they might be a bit more expensive than buying one from a guy in your neighborhood, but with all the details listed, the ability to go to the dealership at any time and test drive it, and with all the warranties that come from the dealer, my friend decided it was a much more reliable option.
Of course, you can look at other websites, in the classifieds in Thai newspapers (need to get a Thai friend to translate) or from friends of friends but, in most cases, even in Bangkok, you'll find the person you're wanting to buy a used car from doesn't speak English, so make sure you take a Thai friend along to translate and negotiate.
Getting a Used Car Blue Book in Bangkok – Once you've found a used car you like in Bangkok, negotiated and bought it, you'll still need to register it.
First of all, you need to get the Blue Book (the proof of ownership) from the owner. The Blue Book lists the owner's name and address and if the car taxes have been paid. If the owner doesn't have the Blue Book that usually means the dealer he/she bought the car from still has it, which tells you it's likely the car isn't completely paid for.
Don't buy a car if the owner cannot furnish you with the Blue Book, or make arrangements for the dealer to do so, as you'll end up with a car you don't really own.
Getting a Used Car Registered in Bangkok – To get a used car registered in Bangkok you must go to the Department of Land Transport Office (DLT) with the car owner.
In our case, the car owner gave my Thai friend power of attorney to represent him (perfectly legal in Thailand), so she dealt with the paperwork for the owner.
At the DLT, a DLT representative will do a check of the Blue Book and the engine serial number to make sure they match and the car isn't stolen. Do not give the owner any money until the legality of the car has been checked by the DLT as more than one suspecting western expat has been the victim of a car theft ring.
Once the car has been checked and registered as legal, you must give the DLT the following documentation in order to be able to register the car in your name – your passport, your non-immigrant visa and either your work permit or letter of residency certified by Thai immigration.
If the person you are buying the car from is Thai you will need a certified copy of his/her Thai ID card and house registration document. If the owner is not Thai, you must have certified copies of his/her passport, non-immigrant visa and work permit or residency letter.
Once all this paperwork has been handed in, along with the Blue Book, you'll be given a red license plate number plate, which you must display on the car until the permanent license plate comes through (about 3-6 weeks).
Now, pay the original owner the money for the used car, and the car is legally yours.
Buying a used car in Bangkok, Thailand isn't that much more difficult than buying one anywhere else.
You just need to make sure all documentation is in order and you take a Thai speaker with you to the DLT to make sure you're understanding everything. Now, enjoy your used car!