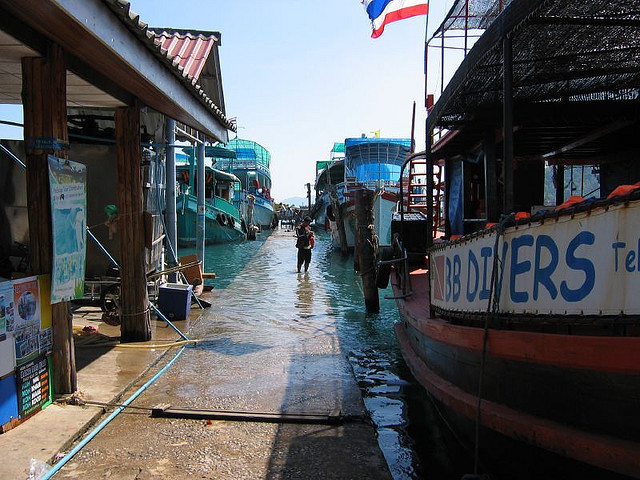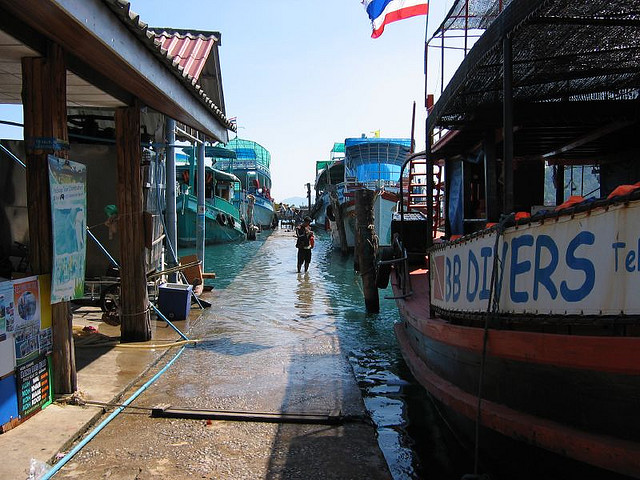 Koh Chang, which means "Elephant Island" in Thai, is one of my favorite Thai island destinations. It's an island in the south of Thailand, and a popular destination for budget travelers, as accommodation is cheap. Traveling to Koh Chang from Bangkok is a breeze too. There are several modes of transportation available that can get you there quickly, depending on your travel preferences, and fares are cheap.
Getting to Koh Chang by Bus – One of the most popular, and cheapest, ways to get to Koh Chang from Bangkok is by public bus. You can catch a bus at the Eastern Bus Terminal in Bangkok; easy to get to as it's next to Ekkamai sky train station, or at the Mo Chit Northern Bus Terminal, relatively close to the Mo Chit sky train station. (You can take a quick bus, or one of the motorcycle taxi drivers at the exit to Mo Chit station will take you).
Buses from here go to Trat. In Trat, hop on a songtaew (the small open-sided pick-up trucks used as bus-taxi services in most parts of Thailand), which will take you to Laem Ngop pier. The ride takes about 25 minutes. Boats run every hour or so, through most of the day, to Koh Chang.
Bus fares to Trat are based on the type of bus you take. VIP buses are more expensive, but are comfortable and airconditioned. They cost around 300 baht ($10). Second-class buses, sometimes air-con, sometimes not) are about 180 baht ($5.90).
Getting to Koh Chang by Mini Van – I'm not a huge fan of mini vans as the drivers tend to drive fast, somewhat unsafely, and you're crammed in the back of an, often, crowded van for hours at a time. They are however much quicker than public buses, but not much more expensive.
To get a mini van to Koh Chang (the ferry pier anyway, from where you'll take a boat to Koh Chang), the easiest way is to climb into a van at Victory Monument, which is where most of them stop. Tickets run around 350 baht ($11.75) and, as most of the van drivers speak enough English as they deal with tourists on these runs all the time, they will at least shout the destination in English when they pull up to the curb.So, unlike many mini vans in Thailand, they're easy to find.
You can book a mini van through a Khao San Road travel agent too, but i don't recommend it. They tend to add on hefty fees so, if you can do it yourself, why not.
Remember too, mini vans have limited room for luggage so, if you're dragging a huge backpack around with you, or suitcases, the bus is the way to go. Mini vans won't take you if you're traveling with the kitchen sink.
Getting to Koh Chang by Plane – Surprising to some budget travelers, flying to Koh Chang isn't that expensive, at least compared to the west.and of course it's the quickest way to get there.
Bangkok Airways has two flights every day from Bangkok's Suvarnabhumi Airport into Trat Airport. Once in Trat, you can take a mini van from the airport direct to Laem Ngop pier. The whole trip takes between two and three hours.
Finally, don't miss reading What to See and Do on Koh Chang, for some great ideas about how to keep yourself occupied once they get there.