How to Do a Thai Wai Correctly – Traditional Greeting in Thailand is Beautiful
The Thai Wai is the Form of Greeting Used in Thailand, Here's How to Do it Properly
The first thing you will notice when you come to Thailand is the Thai wai. The 'wai' is the Thai form of greeting and farewell, which consists of holding your hands up with your palms pressed together like in prayer, touching the tips of your fingers to your chin, nose or forehead (depending on the status of the person you are giving one to) and then bowing your head.
Done correctly, it is one of the most beautiful greetings you will see. Done incorrectly, it is comical and often downright ugly.
It's also confusing knowing when and whom to wai. You should never wai shopkeepers, servants, people younger than you or children first. Once they wai you, you can if you want, do the same thing back. But never wai children after they've wai-ed you, instead just smile. Understand now?
No, probably not. I didn't either at first.
Thais are all taught how to wai correctly, when they are tiny children. Westerners have usually never done this before and require a lot of help. I've been in Thailand for almost five years, and still find it difficult sometimes. Here are some tips though, to make it easier.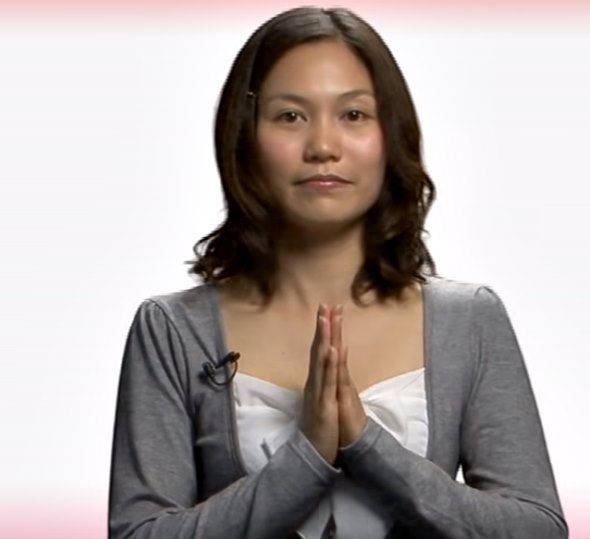 The three levels of Thai wai
There are three different levels of Thai wai, depending on the status of the person you give one to.
The normal level is the one presented to someone who is your age or social status, or to someone you respect. This wai is given to teachers and mothers and fathers, and it is where the fingertips touch the tip of the nose. Women then either bend their heads or bend their knees in a slight curtsey. Men bend their heads in a bow.
The next level is given to people of a higher social status, or who are older. In this wai, the tips of the fingertips touch the area between the eyebrows. Men bow and women curtsey at the same time.
The final level is the one reserved for monks and the king. In this level, the fingertips touch the hairline and the nose touches the base of the thumb. Men bow and women curtsey but, in this curtsey, one foot is stepped backwards so the curtsey can be lower.
When somebody wais to you in Thailand, wai back. The tip though for foreigners here is, because the one who is junior in rank, age or profession should wai first, make sure you wai with a lower level wai than the one given to you, unless you know the person is on the same social standing as you.
For instance, if a shop keeper wais to you, you will most likely get the normal level of wai. You can then respond with the lowest level of wai. If you're a teacher though and a parent wais to you, wai back with a wai of the same level as, technically, you're on the same level of social standing.
The big problem Westerners often have when they wai is what to do with their elbows. Elbows should be tucked into the body, not flapping around like you are doing the chicken dance.
This is what makes the Thai wai so beautiful. If your elbows are stuck out too far, you'll often find a kindly Thai will pat you on your elbow to tell you to tuck it in – it's much more graceful that way.
Oh and one other thing, you should always wai monks but don't expect them to wai back.
The safest way to deal with the Thai wai if you're unsure though is this. Don't wai first. Wait till somebody wais you, then wai them back. But you can safely wai temples, spirit houses and Buddha statues.
Just use the highest form of wai, the one where your fingertips touch your hairline. And remember, smile. There, you're all set.