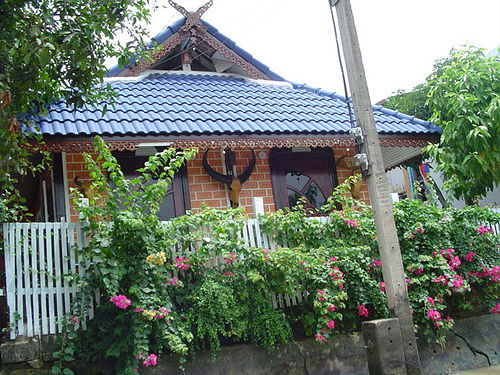 How to Easily and Cheaply Rent a House in Bangkok, Thailand
Renting a house in Bangkok isn't that difficult and, as houses are often cheaper than Bangkok apartments or condominiums, especially for the space, renting a house can be a good decision. If you're planning on renting a house in Bangkok, it's easy and, with lots of choice, you should find something you'll love.
Just make sure you follow these quick tips.
How to Find a Rental House in Bangkok – There are many ways to find a house to rent in Bangkok. One of the easiest ways is to buy a rental house magazine. As these are in Thai, you will have to get a Thai friend to help you translate it but, with thousands of listings (with photos!) every week, you'll find something that suits you easily.
You can also try real estate rental agents in Bangkok, although these usually only represent the high-end market and, because you go with a rental agent to rent a house, you'll likely pay a lot more than the going rate.
Another way is to walk around the neighborhood you're interested in renting in and take down any phone numbers and contact information you see on available rental houses.
Finally, if you have Thai friends, ask them if they know of anyone that is currently renting out their house and needs a tenant. You may be surprised how many do actually know about rental houses and can often get you a great deal on one simply because you are friends with them.
Decide if You Want Furnished or Non-Furnished – Many rental houses in Bangkok come fully furnished. This is wonderful if you're in Thailand short-term and don't want to buy much.
But if you're going to be here for the long haul, it's usually much cheaper to rent a non-furnished house and buy your own furniture. Plus, that way, you'll get the type of furniture you want, especially as Thai taste may not always coincide with yours.
Negotiate the Monthly Rent – Like most other things in Thailand, rent on houses is entirely negotiable. When you find a rental house you like in Bangkok, don't automatically pay the asked rent. Instead, negotiate as you'll find, especially if you're willing to sign a lease for 2-3 years, the rent can come down by as much as 15-20%.
Documents Required to Sign a Rental House Lease – You'll need a certified copy of your passport, your work permit and proof of income, if you're working in Thailand. For most owners, a copy of your Thai pay slip will be enough.
Money Upfront – Once you've negotiated the monthly rent you're willing to pay you will have to give the landlord the first month's rent plus TWO months rent as deposit. So, if you're paying 20,000 baht per month (around $685), you will have to give the landlord 60,000 baht ($2,000).
At the end of the lease, you will get back 40,000 baht of the money you gave the landlord, minus any damage costs you have caused.
And that's it. Arrange with your landlord when you will be moving into your Bangkok rental house and get the keys. You'll find that renting a house in Bangkok gives you more space, more privacy and more freedom than life in a Bangkok apartment. Enjoy!
Related: What does a 20,000 baht a month house look like in Bangkok?