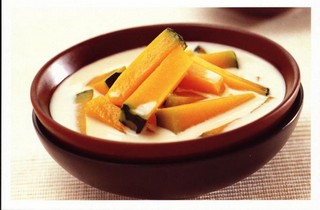 Thailand is known for its delicious traditional desserts that are easy to make and relatively healthy too.  This is one you'll see all over Thailand and is of the most delicious and simple Thai desserts to make. Pumpkin is loaded with vitamins, antioxidants and a fabulous source of beta carotene, and some studies have shown people who live in countries that consume a lot of coconut milk are thinner than those who don't. Pumpkin and coconut milk is so easy to make – here's how I do it.
Ingredients
1 fresh pumpkin
1 cup of coconut cream (available at Asian grocery stores)
4 cups of coconut milk
3/4 cup of sugar
1/2 teaspoon of cinnamon and 1/2 teaspoon of sugar mixed together
dried coconut (optional)
(This recipe serves 4-6 people.)
Step One
Wash the pumpkin then peel the skin off it and take out the seeds. Chop the pumpkin into cubes and put it aside.
Step Two
Mix together the sugar and coconut milk and put into a saucepan. Cook over a medium heat until the sugar has dissolved, then bring to a boil. Lower to a medium heat and add the pumpkin and cook until the pumpkin is soft (don't overcook or the pumpkin will end up really squishy and dissolve in the coconut milk -the pumpkin should still be solid when it's finished cooking).
Step Three
Add the coconut cream and boil again, then remove from the heat and cool slightly.
Step Four
Put the mixture into a bowl and sprinkle with the cinnamon and sugar mixture. The dessert can be served either hot or cold. If served hot it will be slightly runnier, if it cools it will thicken slightly. You can also grate a little dried coconut over the top of the dessert if you like.
Including cleaning up time, this recipe only takes about 10-15 minutes so is a great, easy dessert recipe especially if you're in a rush and want something simple but delicious. Enjoy!