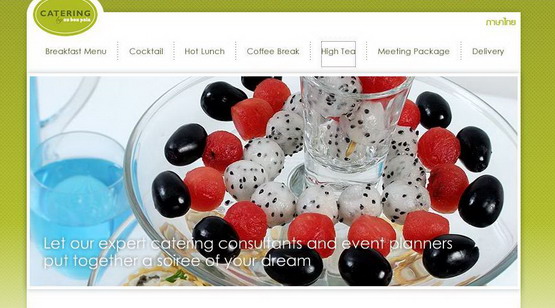 If you're in Thailand and are thinking about holding a dinner, party or special event, do you really want to cook? If you don't, hiring a caterer is the smart thing to do, but how do you hire a caterer in Bangkok and what kinds of caterers are available?  Surprisingly, Bangkok has many different caterers who will cater food for any occasion – parties, private dinners (both small and large), special events, black tie dinners, weddings, business lunches – you name it, they'll cater it.
There's also a wonderful choice of different types of food in Bangkok, so your catered meal doesn't have to be the same old same old.
Types of Caterers – There are many different types of caterers in Bangkok. Most of the major hotels will cater any event. Just contact your favorite one and find out rates, menus and availability.
Restaurants will also cater for most occasion. In fact, using a restaurant to cater your event is usually a great choice as you have the opportunity to eat there a few times, check out the food and see if it's consistently good.
Bars, pubs and clubs will also usually cater, so contact your favorite one. Most of the British pubs do outside catering if you're feeling like a good British pub meal, and the nightclubs too have some excellent catering services.
Types of Food Available From Caterers – In Bangkok, the type of food you can have for a catered event is pretty much unlimited. British, French, German, Italian, Spanish, Thai, Chinese, American, Cuban, Argentinian, Indian – it's all available, and more. Just find a restaurant or hotel you like, check out the food and then ask about their catering services.
What Equipment Will A Caterer Bring – In Bangkok, a caterer will bring pretty much anything you need for your dinner, party or special event. They'll bring all the serving dishes and utensils, all the heating equipment, tablecloths, plates, cutlery etc. They will also provide waiters and busboys.
All of this should be included in the price they quote you. If you need tables and chairs, you can hire them from several suppliers, but the British Club also hires them if you want to hire from a place you are sure is going to understand English.
Recommendations For Caterers
There are many different choices for caterer in Bangkok, Thailand, but these are a few of the ones that always seem to come highly recommended:
Big John's Home Baked Pies – If you love home baked British-style pies (they're actually Australian, but who can tell the difference!), chips (french fries), mashed potatoes, hamburgers and more, then hire Big John's Home Baked Pies to cater your dinner or special event. The food from Big John's is delicious, prices are quite inexpensive and service is good. Tel: 02-392-0847
Giverny – For good French food, try Giverny. They have set menus, the food is delicious (love the fresh bread!) and the service is great. Also fabulous for catered afternoon teas. Price-wise they're inexpensive too. Telephone: 02-318-9417
British Club – The British Club caters for cocktail parties, dinners, buffets and pretty much anything in between. The food is good, and they will also hire out any of the equipment you need. Extremely reliable too. Tel: 02-234 0247
Au Bon Pain – Au Bon Pain is a more casual restaurant, with sandwiches, salads, muffins, cakes, cookies etc., but they're a great restaurant to use to cater a business lunch or a casual dinner. They also cater wedding ceremonies, birthday parties, product launches etc. Price-wise they are inexpensive and the quality of food is excellent. Tel: 02-261-5363.
These are just four of the excellent caterers in Bangkok, there are thousands more, most of which serve wonderful food at inexpensive prices. Plus, Thailand has a reputation as being service oriented so, not only will you get great food at pretty much any caterer you try in Bangkok, but the service should be impeccable too.