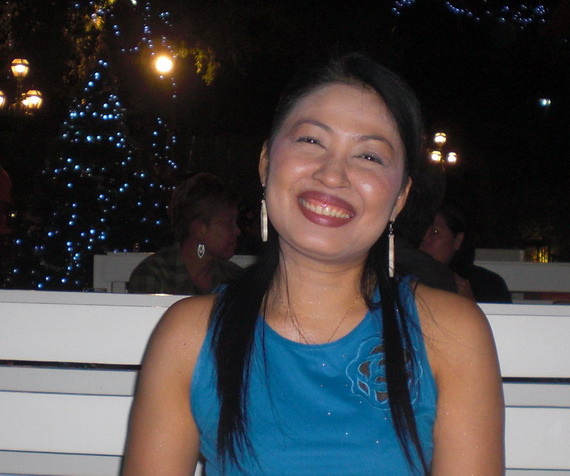 On your first trip to Thailand, you'll be surprised how cheap getting a haircut is. Thai hairdressers do fabulous hair cut and there are hairdressers everywhere in Thailand, but how do you get a haircut and what should you look out for when having a haircut in Thailand?
Read these few tips and, the next time you need a haircut in Thailand, you'll have no problems getting one.
No need to make an appointment – In Thailand, unless you go to a high-end hair salon, nobody ever makes a hair appointment. You just show up at the hairdressers at the time you want your haircut and a hairdresser will be able to help you.
The longest I have ever waited for a haircut was 15 minutes and that was because I wanted a specific hairdresser and she was busy with another client when I arrived.
Washing your hair at a hair salon in Thailand – I love getting my haircut at Thai hairdressers because, unlike the US, it's such a relaxing experience. When you get to the hair salon, they will immediately assign you to a shampoo girl who will wash your hair.
The wonderful thing about getting your hair washed in Thailand though is that, unlike the US where you sit in a chair and lean your head back into a sink thus getting a stiff neck, in Thailand, you lie on a plastic bed with your head resting just at the neck of the sink.
The hairdresser washes your hair, usually with lukewarm water but, because you're not sitting down and leaning back, you never get a crick in your neck. Every hairdresser I go to in Thailand also includes a free head massage when they wash your hair, which is so incredibly relaxing sometimes I almost fall asleep.
Having a haircut in Thailand – Once you've had your hair washed, you will be shown to a chair in front of a mirror and your hairdresser will arrive. The salon will also either offer you a glass of water, sometimes fruit juice or coke, or a coffee too at this time – all included in the price of the hair cut.
If you don't speak Thai, it is better to go along with a photo of what hairstyle you want, as very few Thai hairdressers speak any English (but they will be able to faithfully reproduce the hairstyle photo though).
All salons have tons of magazines too, so if you don't have a photo, go a few minutes before you want a haircut so you have time to look through the magazines and choose a hair style you like.
Second hair washing – Once the hairdresser has finished cutting your hair, she will usually call for the shampoo girl who will wash your hair for a second time so that you don't leave the salon feeling all itchy from the loose hair. At this time, they often deep condition your hair too.
Blow drying your hair – The shampoo girl will then blow dry and style your hair. Once she's finished, the hairdresser will return to make any last minute cuts so that your hair is perfect.
Cost of a haircut in Thailand – Most haircuts for women and men in Thailand start at 150 baht ($4.25) at very cheap salons and go up to 350 baht (about $10). I go to one of three different salons near my house and the total cost for my haircut is usually 320 baht (around $9).
That includes a 200 baht haircut charge, 40 baht tip for the shampoo girl and an 80 baht tip to the hairdresser. So very cheap and always a perfect haircut.
Getting a haircut in Thailand is not only cheap, it's also a relaxing and fun experience. I have also never had a bad haircut in Thailand. Thai hairdressers take a long time cutting hair (I have short hair and my hairdresser usually takes at least 30 minutes to cut it perfectly, then another 5-10 minutes after it's dry to make minor changes).
Thai hairdressers are also sweet and polite and, even if they don't speak English, will always make you feel relaxed, welcome and happy. I recommend getting a haircut in Thailand every time you visit. It's a wonderful experience.