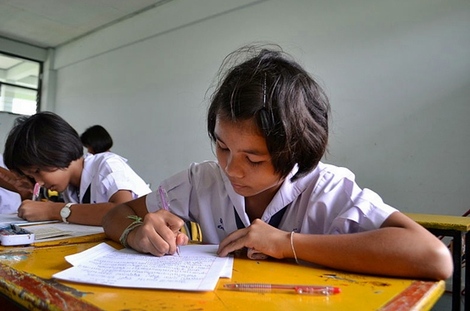 During my first year of teaching English in Bangkok, Thailand I taught temporarily at two language schools. Language schools in Bangkok are not only the most popular places to learn English, they also hire more native English speakers to teach than almost anywhere else, so they're an excellent place to find a job easily and quickly.
With hundreds of schools all over the city, it can be relatively easy to get a job teaching English at a language school in Bangkok, as long as you have 'the right look' and know how to go about it. These quick tips will help, as will these on how to do well in an interview in Thailand.
Are you white and a native English speaker? – The vast majority of English language schools in Bangkok will only hire teachers who are white and native English speakers. That means, if you are Asian, Hispanic or of African descent, your chances of getting a job at a language school in Bangkok are far lower than if you are blond, blue eyed and white skinned no matter how good your English skills are or how high your qualifications.
Yes, in many other countries that would be discrimination and illegal. In Thailand, it is perfectly legal and reflects what the students paying for the language classes want – a white native English speaker, preferably from the United Kingdom, United States, Australia, New Zealand or Canada.
This situation was discussed in an article in the Bangkok Post in 2002. In the 11 years since then unfortunately, things haven't changed much.
If you are a non-native English speaker, however, your chances of being hired by a Bangkok language school are even lower, as most schools don't believe a non-native speaker has the language skills necessary to teach. In this case, your best bet is to apply to a private or government Thai school.
Qualifications – Are qualifications important when it comes to teaching at an English language school in Bangkok? Not as much as you might think.
Of course, if you have a BA degree and a CELTA or other TEFL certification, your chances of getting a job at an English language school in Bangkok are higher. In many instances, though, native English speakers without even a BA degree are hired by many language schools, as they have the 'right look' (white, native speaker). Not particularly fair to the students paying for the classes but, yes, this is Thailand.
Some of the best schools like Inlingua or International House, will usually only hire teachers with an undergraduate degree and TEFL certification and prefer people with teaching experience if you already have it.
How to get a job at a language school in Bangkok – There are two main ways to get a job at any of the Bangkok language schools., large or small.
The job board on Ajarn is one of the most popular places for schools to post job vacancies, and you'll usually find several postings there every week. They vary from part-time jobs on the weekend, to evening jobs teaching business English, with a few full-time jobs thrown in. Do be wary of the schools offering 200-300 baht per hour, as this is the lowest of the low salaries in Bangkok for an English teacher and only those not qualified to teach would accept it.
The other way to find a job is to simply dress professionally and take your resume, letters of reference and photocopy of your undergraduate degree and TEFL certificate to any language schools you may be interested in applying to and speak to a recruiter.
The best place to start doing this is in the Silom area of the city and the Siam Center area, as these two places are where many language schools have branches. You could go to 10 schools during just a couple of hours, and still be in time to meet friends for lunch.
Occasionally, you may be offered a job on the spot or be asked to come back to do a teaching demonstration. Many language schools will also only offer you part-time work to begin with but, if you like the school, it's often a good idea to accept, as these types of jobs can quickly turn into a full-time gig.
Don't neglect the areas outside the city center either, especially if you live in one of them, as competition will usually be less and jobs are just as plentiful. You also don't want to be teaching at a language school in the center of Bangkok and living in the suburbs, as traffic in Bangkok is notoriously terrible so your commute could be horrendous.
Avoid signing up with a teaching agency – There is absolutely no need to sign up with a teaching agency in Bangkok for any job, not unless you want to be scammed and have a percentage of your salary withheld every month for the 'agency fee'.
While I'm sure there are legitimate teaching agencies in Bangkok, I've never come across one and the complaints about them from western teachers are rife.
Besides none of the legitimate language schools in Bangkok uses an agency to recruit teachers. There's no need to, as so many teachers apply for jobs there every month.