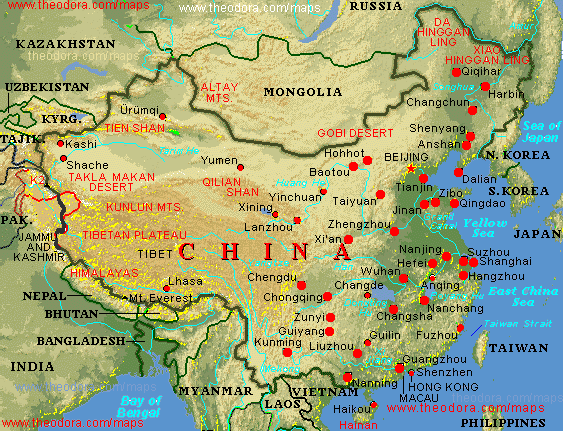 As a tourist to China, who has applied for a tourist visa at the Chinese Embassy in Bangkok, Thailand, I'm here to tell you it's easy to do. If you're living in Bangkok or just a tourist passing through, and have decided you'd like to take a vacation to China, getting a tourist visa is simple and, for just about everyone except Americans, inexpensive. Here are a few tips about the tourist visa for China and the steps you need to take to get one.
Visiting The Chinese Embassy in Bangkok, Thailand – Unlike many other countries in Asia, you're not allowed to mail in your passport to apply for a tourist visa to China. That means, you have to physically go to a Chinese embassy and, for many tourists in Asia, that means the Chinese embassy in Bangkok. (A travel agent can also do it for you, in which case, you don't need to read any further through this article).
Like many of China's embassies though, their website is useless when it comes to figuring out how to get there. While the American, British and Australian embassies all have maps of Bangkok, the Chinese embassy seems to think a tourist will simply know how to get there. Don't worry, it's often the same when you arrive in China too.
Bangkok's Chinese Embassy is easy to find and close to public transportation. Just take the underground train to Phra Ram 9 Station, and walk five minutes north, past Fortune Mall, until you arrive at the high-rise building the embassy is located in. It's on the second floor.
Weirdly, though, China seems to be a bit cheap when it comes to having embassies in city areas as I've noticed in several other cities, where the British and American embassies are all on what is known as 'Embassy Row', the Chinese embassy is much further out. That's the case in Bangkok too.
The embassy address is 57 Ratchadapisek Road, Bangkok.
What You Need To Apply For Tourist Visa -All you need are:
Your passport with a few blank pages and six month's validity still left on it.
One passport photo (two, if you're American) and one visa application form (two, if you're American) – notice the recurring pattern here? Americans do get screwed when it comes to applying for tourist visas for China. Wait until you get to the part about fees…..
A confirmed round trip airline ticket to and from China, and reservations at a Chinese hotel.
Fee for tourist visa. $70 for most nationalities. $140 for Americans. Yes, you read that correctly. (Are you getting the feeling China doesn't like Americans much yet?) Actually, you would be wrong. China simply charges the same fee America charges Chinese citizens for a visa to the US. You can't blame them.
Note though, you do not have to pay until you are given the visa so, unlike other countries, if you are denied the visa, the Chinese embassy does not keep your money as you haven't paid it yet.
One Day Service Fee – I also recommend paying the one-day service fee. That way, you can drop off your passport in the morning and pick it up the same day around 3pm. Well worth the extra money.
When I did this, I dropped my passport off around 10am (it takes less than 15 minutes), then spent a few hours at Fortune Mall just down the street, doing some shopping, eating lunch, and working on my computer. I arrived back at the embassy around 3pm and was back on the underground on my way home at 3:20pm. The Chinese are nothing if not efficient.