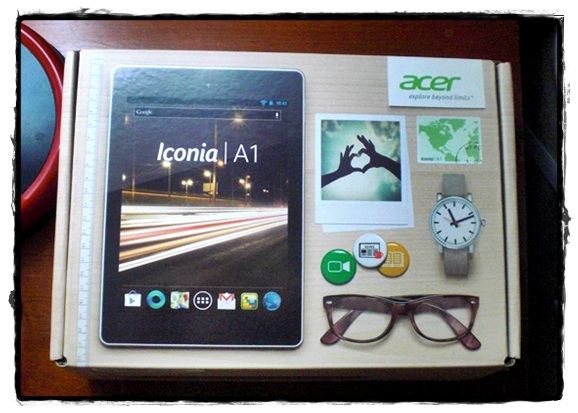 How to Get Cheap Price on a Computer or Tablet in Bangkok, Thailand
In the 15 years I have lived in Bangkok, Thailand, I have bought four desktop computers, six laptops and three tablets for myself. I've also shopped with Thai friends when they have bought their computers and tablets, as well as bought tablets for my parents.
During all of these purchases, I have not only learned a lot about buying a computer or tablet in Bangkok, but I also now know where and how to shop to get the cheapest price, while still ending up with a high-quality product.
That is also why I am now telling you, if you plan on buying a desktop computer, a laptop or a tablet the next time you are in Bangkok, follow these tips if you want a high-quality item at the cheapest price.
Don't shop at Pantip Plaza – Pantip Plaza is Bangkok's most famous IT mall and, as it is located in downtown Bangkok it is usually the first place most would-be computer or tablet shoppers go.
Unfortunately, it is also a mall that is targeted towards tourists, is full of touts and unscrupulous sales people and is world-famous for its bootleg software and scams. That's why I always tell anyone who is shopping for a computer in Bangkok, avoid Pantip Plaza if you prefer to deal with an honest sales person, and be sold a high-quality product at an affordable price.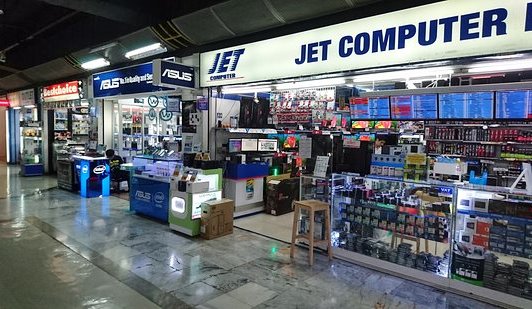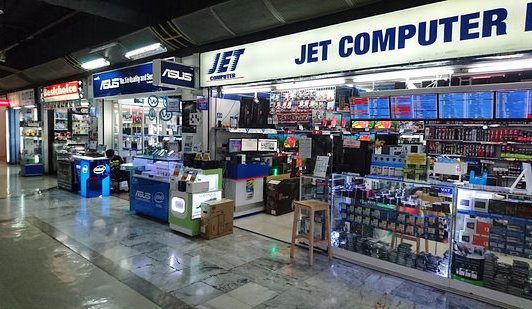 Where should you shop for a cheap computer of laptop in Bankgok? – There are thousands of places selling computers and tablets in Bangkok, including a large number of IT malls or malls that have large IT sections. Almost all of them are better places to shop than at Pantip Plaza.
My personal favorites are Fortune Town IT Mall, which has an enormous IT section with several hundred small shops selling computers, tablets, cameras and other electronics. Sales people are also usually very helpful, and not trying to run a scam. It is also where most Thais shop as prices are cheap.
I have also bought two laptops at two different sellers at MBK (Mahboonkrong) mall and been very happy with both the sales experiences and the laptops. The relatively new Digital Gateway IT mall, next to the Siam sky train station in downtown Bangkok is also excellent.
Start with these three or, if you are staying out in the suburbs, look at places like Mega Bangna in the Bangna area of town, Future Park Rangsit, or the large IT mall section at Seacon Square.
Always bargain – Many visitors to Bangkok see the prices listed for computers and tablets and because they are electronic items presume they cannot bargain for a better price.
In Bangkok, outside of the department stores and brand name stores like Apple, Acer, Samsung etc, that is not true at all. I have bargained for a lower price when buying at both Fortune Town IT Mall and MBK, and ended up with either a lower price or free products thrown in every time.
Don't be insulting when you bargain and offer a ridiculously low price but, often, when you buy a computer or tablet that is 12,000 baht ($390) or more, you can usually get a seller to lower the price by 500 baht or more. That is particularly the case at MBK, where bargaining for electronics at most stalls is the norm.
Buy more than one product at the same shop – Your bargaining power, of course, increases if you buy more than one product at the same shop or stall. The last time I bought a laptop at MBK, for instance, I decided to buy an inexpensive cell phone at the same shop.
The two purchases if bought separately would have cost me 17,500 baht ($564) but because I agreed to buy both at the same time, the seller willingly knocked 1,000 baht ($31.25) off the total.
Check out the free stuff – One thing I love about buying any electronic item in Thailand is they almost always come with something free. A keyboard, a mouse, a cleaning kit, mousepads, laptop bags and on and on. That's why, if you see the laptop or tablet you want at several shops, you need to not only compare the price each store is selling it for, but also ask if there are any free items that come with the purchase.
For instance, when I bought my latest Acer laptop a couple of months ago, two stalls almost next to each other at Fortune Town IT Mall had the lowest prices. When I compared the price each was asking — 11,500 baht ($370) and 11,300 baht ($363), the logical choice should have been to buy from the latter shop………. but not so fast.
Once I realized the shop with the higher price was also throwing in a new mouse, a cleaning kit, a large padded computer bag and a smaller soft-sided laptop bag, (all of which I needed and if I had bought separately would have cost me over $50), it made more sense to buy from the slightly more expensive seller.
Just be sure you actually need the free stuff first, though, before you fall for the sales pitch.
Don't forget your tax rebate – If you are a tourist or a short-term visitor to Bangkok, you are eligible for a tax rebate on many things that you buy, including tablets and computers. You just need to make sure you have the tax rebate paperwork completed by the seller you purchase from before you leave the shop, and then keep your receipt.
When you are at the airport for your flight out of Thailand, submit the tax rebate paperwork at the rebate office (ask an airport official if you can't find it) and receive a refund for all the tax you paid.
That alone can often make buying a computer or tablet even cheaper in Thailand than your home country.