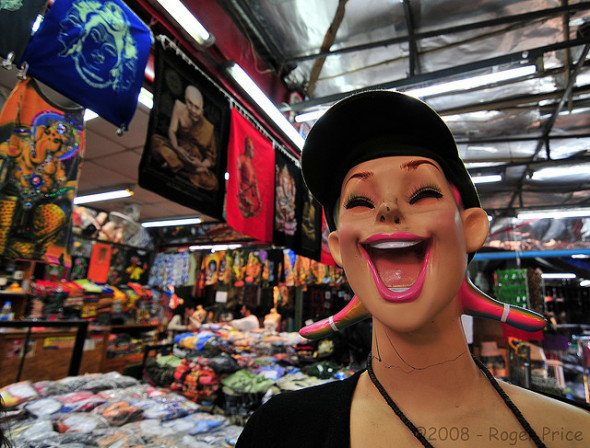 The first thing you'll notice when you come to Thailand is the thousands of malls, shops and market stalls. For most people, Thailand is a shopper's paradise full of products you'll never see anywhere else. One drawback to shopping in Thailand though is the lack of consumer protection.
Where, in the west, we can return anything to the store we don't want, be guaranteed a full refund it the product doesn't work and can demand satisfaction from just about any store we shop at, that's not the case in Thailand. Consumer protection barely exists so it often comes down to the consumer protecting themselves.
If you plan on doing a lot of shopping in Thailand, make sure you follow these tips to protect yourself from any problems you might encounter with purchases.
Always Check Item Before Finalizing Purchase – Because consumer protection is not so good in Thailand, no matter what you buy, always check everything carefully before you hand over your cash. Check clothing to make sure there are no stains, ripped seams or flaws in the fabric. Do the same thing with bags, shoes, jewelry and anything else that could have flaws or problems.
In most shops in Thailand, because of the lack of consumer protection, if you can return the product at all it will only be for an exchange and not for a refund.
Make Sure Electronics Work – Before you buy any electronic product in Thailand, have the sales assistant plug it in and check it's working correctly. Actually, this isn't as difficult as it sounds as in every electronics store, supermarket, hyper-mart and computer store, the assistant will usually automatically open the box and plug in the device before even allowing you to pay – which is one of the good things about shopping in Thailand.
Again, if you get it home and it's not working, you'll have the hassle of returning it to the shop and only getting an exchange or store credit.
Measure Items Before Buying – With Thailand's lack of consumer protection, If you're buying clothing that's not for you or household items like curtains, sheets, pillowcases and rugs, always measure the person or space in your home before venturing out shopping. Then take your tape measure shopping so you can measure anything you like to make sure it's the correct size before buying.
Many shops in Thailand, even larger department stores and interior design-type stores aren't too happy about exchanging something and there's no way you'll get your money back.
Check Several Stores Before Purchasing Big Ticket Items – Unlike in the US where, often, if you buy an item then see it sold elsewhere cheaper the store you bought it from will give you the difference plus 10%, that's never going to happen in Thailand. So, before making your final purchase on big ticket items, make sure you check several shops to ensure you get the best price.
Tell the Seller You Live in Thailand – If you tell the seller before purchasing that you live or spend a lot of time in Thailand, that can often stop them from cheating you. Knowing an angry farang (westerner) might show up again next week complaining about the product you sold him sometimes stops a seller from cheating you in the first place.
With tourists, it is easy to cheat them as there is practically no chance they'll ever come back. Honestly, I've rarely been cheated in Thailand, and it's honestly a rare problem. It can happen though, so be prepared.
In seven years of living in Thailand, I can count on one hand the number of times I've had problems with things I have bought from scamming sellers. 99% of Thai sellers are extremely honest and many will go out of their way to check products they are selling before taking your money. I have even had sellers point out defects I haven't noticed myself.
Thailand does have an Office of Consumer Protection and a Consumer Protection Act, but few sellers seem to be aware of it and, if they are, most don't seem to care.
Like I said, protect yourself first and then you are not likely to have problems. And, if all else fails, have a huge western-sized tantrum in the middle of the store (something few Thais would ever do) and, as a friend of mine told me who did this once, it can be quite shocking how fast the store owner will refund your money just to get rid of you.
RESOURCES: Office of the Consumer Protection Board of Thailand (which in typical Thai style is only available in Thai and that in itself is a problem for most westerners when it comes to seeking consumer protection).