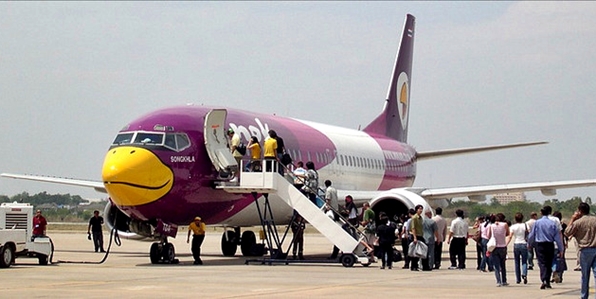 Mae Hong Son in northern Thailand has become a popular destination for backpackers, low-budget travelers and those who like a travel spot off the beaten track. Mae Hong Son is known for its beauty, its cool shops, restaurants and cafes and its many opportunities to take advantage of the great Thai outdoors. But, if you are planning a trip to Mae Hong Son, your first priority is knowing how to get there. After all, getting from Bangkok to Mae Hong Son might not be so easy — especially if you have never visited Thailand before. Don't worry. We can help.
How to Get to Mae Hong Son from Bangkok by Bus – The cheapest way to get to Mae Hong Son from Bangkok is by bus. Do be aware, however, it is around a 16-17 hour drive so only take the bus if you know you can stand being stuck on one for that long.
Get a bus from Mo Chit Bus station in northern Bangkok. They leave two or three times a day and tickets are around 575 baht or $18.99. Get to Mo Chit bus station by taking the BTS sky train to Mo Chit station and then either a motorbike or taxi to the bus station from there.
How to Get to Mae Hong Son from Bangkok by Train – You can't actually get all the way to Mae Hong Song via train from Bangkok, but you can get to Chiang Mai, which takes about 15 hours. From there, you can take a mini bus that will cost you approximately 175-200 baht ($5.75- $6.60) and takes an additional three hours.
Get a train from the Hua Lamphong train station in Bangkok to Chiang Mai. You can buy tickets for first, second or third class with first and second class also having an optional Sleeper if you don't mind the higher price.
There are also several trains that go to Chiang Mai daily depending on which route you want to take. Ask at Hua Lamphong train station or at a travel agents for details. Book a day or two in advance, if possible, so you're sure you can get a sleeper if required.
Current prices for tickets from Bangkok to Chiang Mai via train are between 790 and 1,600 baht ($26 to $52) depending on how you decide to travel.
How to Get to Mae Hong Song from Bangkok by Plane – You can actually fly from Bangkok to Mae Hong Son and it is, of course, the fastest way to get there.
You will have to fly from Bangkok to Chiang Mai first, however, as there are no direct flights from Bangkok to Mae Hong Son. For this, your choices are Air Asia or Nok Air to Chiang Mai, and then Nok Air or Kan Air from Chiang Mai to Mae Hong Son. Total flight time? 90 minutes to Chiang Mai from Bangkok and an additional 30 minutes to Mae Hong Son.
As for how to book a flight and prices, your best bet is to book through a travel agent once you get to Bangkok. Prices can be anything from 5,000 baht t0  7,500 baht ($166 to  $247) round-trip.
You can also fly into Chiang Mai and then take a mini bus from Chiang Mae to Mae Hong Son — and that would save you at least 1,500 baht ($45) each way.