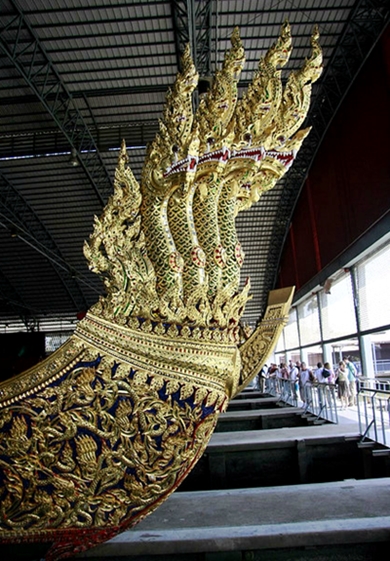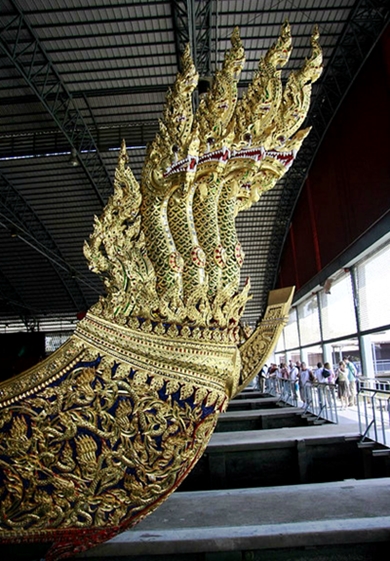 One of my favorite places to visit in Bangkok, Thailand is the Royal Barge Museum. An open-air shed housing eight of the Thai Royal Family's ceremonial barges, here you can see these magnificent boats up close. Once used by Thailand's kings to travel around the kingdom, now these royal barges are only used for important ceremonies. The eight in the museum are from a collection of 51 barges.
While the Royal Barge Museum is a fascinating place to visit, it can be difficult to get to and with hidden costs once you do. Rather than try to find your way to the museum yourself, here's how to get to the museum and what to expect when you do.
How To Get To The Royal Barge Museum – While some tour guides will give you directions that involve taking taxis or buses, walking around confusing Thai sub-divisions, and hoping against hope you find the museum before it closes, there's a much easier way to get there.
Take the sky train to Saphan Thaksin station and then a river boat north on the Chao Praya River to Tha Chang pier. Here, you'll find long-tailed boats that you can hire for a two to three hour boat trip around Bangkok's canals and ask to have one of their stops as the Royal Barge Museum. In fact, so easy is this, the long-tailed boat driver will stop right at the riverfront entrance of the museum, from where it's about a 50-foot walk to enter the museum, and wait for you while you're inside.
What To Expect When You Get There – The Royal Barge Museum is an open-air museum that houses eight of the collection of 51 royal barges. These barges are unbelievably beautiful. Hand-carved with intricate designs, they're covered in gold leaf and gold paint. Pair this with the more than 50 boatmen that row each one wearing vibrant, colorful traditional costumes and head dresses and you'll never see a more beautiful sight.
At the beginning of the museum, make sure you watch the short film that tells you all about the history of the Royal Barges. Then, on into the museum, which is actually quite small.
Here, you'll see eight golden barges, the most important being the Suphannahongsa, (golden swan), the King of Thailand's personal barge. It was built just 100 years ago, and is the most ornate barge in the whole collection. The other barges include one with a monkey god, another with Garuda at the head and several other escort barges.
Walk around, examine the barges carefully (of course, you're not allowed to touch them) and read the historical comments displayed around the museum.
Taking Photos at the Royal Barge Museum – The one negative thing about the museum is, if you want to take photographs, you have to pay a fee per camera. The fee is 100 baht ($3) for still cameras and 200 baht ($6) for video cameras. As you've already paid a small entrance fee, it's a bit of an irritant to have to pay for photographs so I recommend having only one person in your group take the photos and share with them later.
With Royal Barge Ceremonies, with the full fleet, only happening every few years, your chances of seeing one in the flesh are quite slim if you don't live in Thailand. That's why, if you have the opportunity, visiting the Royal Barge Museum is a must do. They really are that beautiful.