Khao San Road is the most famous part of Bangkok, Thailand. Already well-known, it was made even more famous by the American movie "The Beach" and is now a popular place for backpackers and low-budget travelers in Thailand.
When you arrive in Bangkok, getting to Khao San Road is easy. In fact, there are so many modes of transportation to take you there, it just requires deciding upon the best (depending on time of day), the cheapest, or the most fun.
How to Get to Khao San Road by Boat – The easiest, and cheapest, way to get to Khao San Road is by river boat. Boats run up and down the Chao Praya River from early morning till mid-evening so you can hop on a boat at any time, enjoy a fun river cruise, and be in Khao San Road in only half an hour.
To get on a boat, take the BTS sky train to Saphan Taksin station. Walk out of the station and go towards the river where you'll see Sathorn Pier. Boats arrive at the pier every couple of minutes.
Take a boat heading north (to your right hand side) to Phra Arthit Pier. (Just make sure you do not get on a boat with a yellow flag, as they are the only boats that don't stop at Phra Arthit Pier.)
Once at the pier, walk out onto the street and anyone here will be able to give you quick directions to Khao San Road. It's a two-minute walk.
Always take the boat to Khao San Road during rush hour, as it's the only mode of transportation guaranteed to not have traffic jams.
Watch the video below, to see the short walk from Phra Arhtit Pier (also written Phra Atit Pier) to Khao San Road. The video is a few years old, but the walk is just the same.
How to Get to Khao San Road by BTS Sky Train – You can't go all the way to Khao San Road via BTS sky train as the closest station, National Stadium, is still a few miles away. But, you can take the sky train to National Stadium and then jump in a taxi from here.
Just make sure you get into a taxi on the same side of the street as MBK (Mahboonkrong Mall), as that's the direction the taxi will be driving in.
How to Get to Khao San Road by Bus – Another cheap way to go to Khao San Road is by bus but, again, it's not recommended during rush hour (early in the morning, or between 3:30pm and 9pm).
During morning or afternoon hours, and on weekends, though, taking the bus is quite easy and with fares at less than 20 baht (75 cents), it is one of the cheapest ways to get to Khao San Road.
Related: How to get to Mahboonkrong (MBK) Mall by bus, and what to buy when you get there
Bus numbers that go to or close to Khao San Road include numbers 2, 3, 15, 53, 511 and 509. Of course, I could give you long, convoluted directions about where to catch the buses and where the bus stops are but it's far easier to simply buy a Bangkok bus map.
They are available at most book stores, B2S stores and 7-11s, and once you figure out how to read one (takes about 15 minutes), you will be able to find your way to Khao San Road by bus, and all over other areas of Bangkok too. Bus maps cost around $3.50, but you'll save 25 times that amount by using it.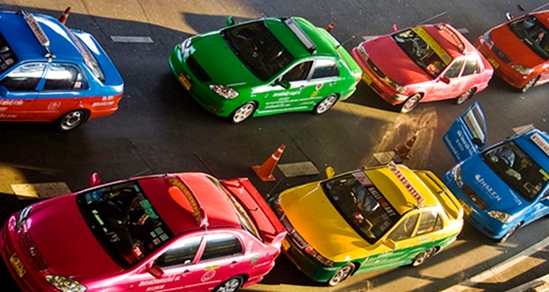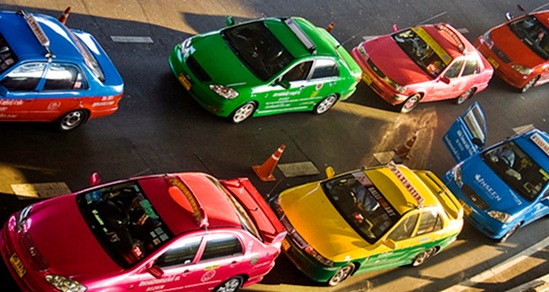 How to Get to Khao San Road by Taxi – You can wave down a taxi from anywhere in Bangkok, and most taxi drivers will take you to Khao San Road.
However, again, during rush hour, never, never, never take a taxi, as you could literally spend more than two hours sitting in the backseat while the meter ticks over and the taxi covers a distance of five blocks.
Related: Tips on how to take a taxi in Bangkok, Thailand?
The boat is your friend at rush hour.
How to Get to Khao San Road by Motorcycle Taxi — You can also take a motorcycle taxi to Khao San Road from anywhere in the city, as any motorcycle taxi driver will basically go anywhere.
Related: The mafia and motorcycle taxi drivers in Bangkok, Thailand
Just make sure you negotiate the cost of the trip before you get on the bike. And be aware, you are paying for the driver to go there and back, if it seems a little expensive as, once he drops you off, he is not allowed to pick anyone else up until he gets back to his original motorcyle taxi stand.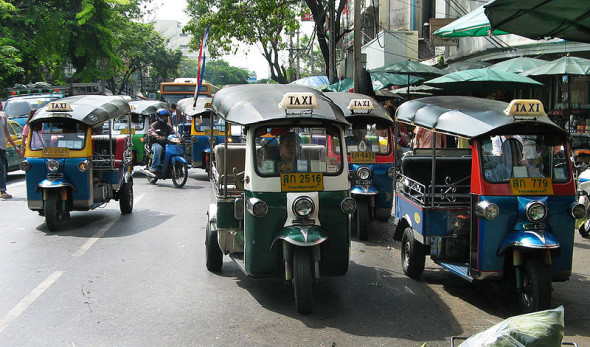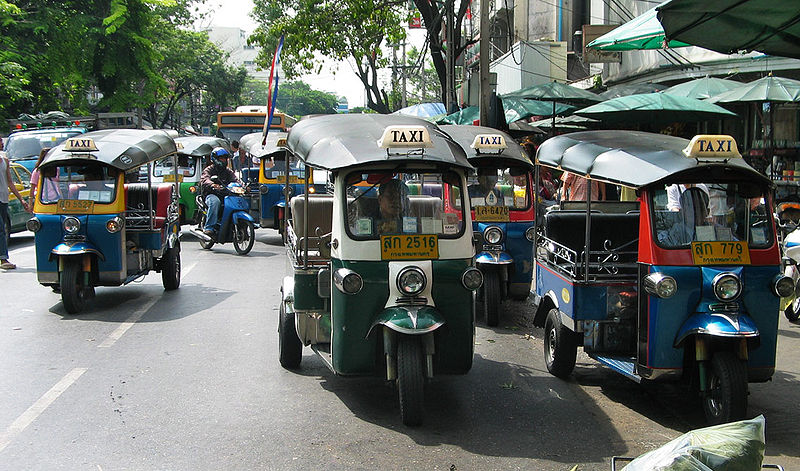 Taking a Tuk-Tuk to Khao San Road – Although tuk-tuks are a fun way to travel, especially if you are a visitor to Bangkok, they unfortunately tend to be one of the more expensive modes of transportation due to nothing more than the greed of many of the drivers.
If you do want to try riding in a tuk-tuk though, and it is a fun experience, always negotiate the fare before you get in and never accept the first fare the driver tells you.
During rush hour, tuk-tuks are slightly faster than taxis as, because they are smaller, the drivers can fit them through narrower gaps than a taxi can get through.