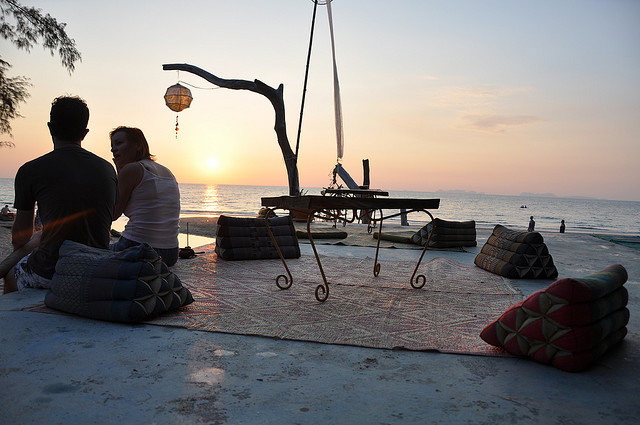 Koh Lanta Yai, is one of Thailand's most popular island holiday destinations. Commonly known simply as Koh Lanta, it's a less developed island than many other tourist spots and, consequently, cheaper. It's also an inexpensive place to travel to from Bangkok, with many modes of transporation available to get there. If you plan on vacationing on Koh Lanta, and will travel the 1,000 kilometers from Bangkok, here are the cheapest and quickest ways to do it.
Travel to Koh Lanta Yai by Plane – Surprising to many tourists, taking flights to Koh Lanta from Bangkok is cheap and fast. You can't fly directly to Koh Lanta, as the island doesn't have an airport, but taking a flight to Trang or Krabi from Bangok, and then a ferry boat, is easy and inexpensive.
Look at Nok Air (avoid Air Asia as their website is a nightmare to book on, and their flights are always delayed), one of Thailand's best budget airlines. When you can travel round-trip for less than 3,000 baht ($99), and it only takes a few hours, why would you consider anything else?
Travel to Koh Lanta Yai by Train – Another quick and cheap, way to get to Koh Lanta from Bangkok is by train from Bangkok's Hua Lamphong railway station.
Buy an overnight train ticket from Bangkok to Trang (the closest train station to Koh Lanta). When you arrive in Trang, simply walk across the street from the station to the travel agent whose office you'll see immediately you exit the train station. They'll get you on a mini van, which will take you to the pier, where a short ferry ride will take you to Koh Lanta Yai.
While getting to Koh Lanta by train obviously takes a lot longer, it's one of the most fun ways to travel there. You get to try three modes of transportation (train, van and boat), you'll meet lots of locals along the way, be able to pick up tasty Thai food from vendors running alongside the train as it pulls into the various stations on route, and the scenery is lovely.
If you have time to spare, I highly recommend taking the train to Koh Lanta. It's authentic Thailand. Plus, you can do the whole trip for less than 1,000 baht ($32.70). (Air conditioned first class tickets are 660 baht ($21.50) plus cost of van. Lower classes are even cheaper).
Travel to Koh Lanta Yai by VIP Bus – A less comfortable way to travel (bus travel is more cramped than train travel with much less freedom to move around), traveling to Koh Lanta by VIP bus is popular with low-budget travelers due to the low cost.
You can catch a bus at the Southern Bus terminal in Bangkok. The journey takes between 10-12 hours depending on traffic, how fast the driver decides to drive, and road conditions (when it rains, traffic slows down dramatically in Thailand).
Taking the bus however is a little more tricky, as you have to buy a ticket to Krabi, but change buses in Surat Thani. That does add a little time to your trip but, once on the bus from Surat Thani to Krabi, it's a breeze. A quick ferry from Krabi, and you're on Koh Lanta in no time.
Again, expect to spend around 1,000 baht ($32.70) on this option.