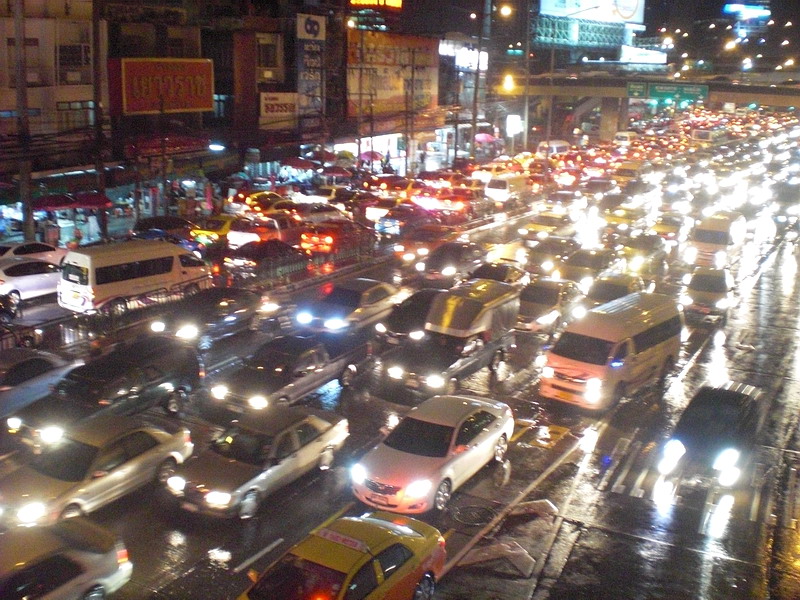 I've lived in the Pahonyothin area of Bangkok for almost a decade. Pahonyothin begins at Victory Monument n downtown Bangkok and runs northwards, crossing Ladprao Road, Ratchadapisek Road and on to Kaset Sart University. The road continues on through Bangkok, passed Don Muang Airport and north, until it ends at the Myanmar border, more than 1,000 kilometers later. It is officially one of the longest roads in Thailand.
The Pahonyothin area however is a particular area in northern Bangkok, encompassing Ari and Saphan Kwai, the world-famous Chatuchak Weekend Market, and continuing on to Central Ladprao Mall, Major Ratchayothin and the Kaset intersection. The Pahonyothin area is home to enormous shopping malls, movie theaters, independent shops, cafes, restaurants, parks and a number of international businesses. Getting to Pahonyothin from other areas of Bangkok is easy. With various modes of transportation available, here are the easiest ways to travel there.
BTS Sky Train – You can catch the sky train at the main station, Siam, and take the Mo Chit line up to Pahonyothin. From Victory Monument, the sky train runs parallel with Pahonyothin, so any stop from Victory Monument to the final stop, Mo Chit, will bring you into the Pahonyothin area.
To get to the main Pahonyothin area, near Central Ladprao Mall, Major Ratchayothin and Kaset Sart University, take the sky train to Mo Chit, and then either hop on a bus or take a taxi for the remainder of the journey (3-10 minutes, depending upon which area of Pahonyothin you're traveling to).
MRT Underground Train – While the MRT does not run parallel with Pahonyothin for many stations, you can take the underground train from any of its stations in the city and get off at Pahonyothin station. You'll find yourself directly next to Central Ladprao Mall or, at the southern exit of the station, right outside Union Mall.
If you want to get to Chatuchak Weekend Market on Pahonyothin Road, take the MRT to Chatuchak Park or Kampaeng Phet stations for Chatuchak, and Kampaeng Phet for Aw Taw Kaw Farmer's Market.
Buses – There are many buses running the length of Pahonyothin in Bangkok, so it's just a matter of waiting for the correct one to come along. Prices are cheap too, with non-aircon buses as low as 8 baht (26 cents) per fare.
Bus numbers that run along Pahonyothin include 503, 26, 63, 39, 59 and 104. You can board a bus at Mo Chit BTS sky train station, and hop off along Pahonyothin Road at Central Ladprao Mall, the Elephant Building, Major Ratchayothin Mall, Kaset Navamin area or Kaset Sart University and the Kaset intersection.
Taxis – While getting a taxi anywhere in Bangkok is easy, it's not recommended to take a taxi to the Pahonyothin area at most times of the week – traffic jams are just too long and too frustrating. Save taxis for early in the morning (before 7am), late at night (after 10pm) or on weekends, when traffic is noticeably less. Otherwise, during the week, what would be a 100 baht fare to the Pahonyothin area, could easily end up a 300 baht fare and two hours sitting in traffic.