How to Get Your Laundry Done on Vacation in Thailand
How to get your laundry done on vacation in Thailand, cheaply and easily
As a tourist or living in Thailand, one thing you realize quickly is you will need a lot of clean laundry. Thailand is an incredibly hot country so, where you might wear a shirt or pants for a couple of days in the west, it is not a good idea in Thailand.
That means, if you have to constantly change clothing, you will need to do your laundry yourself or get it done for you. How do you do this in Thailand, and where should you go?
Getting Your Laundry Washed as a Tourist in Thailand – If you're a tourist in Thailand, so only in the country temporarily, you have several options for doing your laundry or getting it done for you.
Use the hotel or guest house laundry service – Most hotels and guest houses in Thailand will have a one-day laundry service. If you want to make sure your laundry gets done quickly, drop off your laundry with the hotel or guest house laundry service and, in most cases, you should have it delivered back to you clean and dry by the end of the day.
However, hotel laundry services are usually more than double the price of local laundry services, which can add up if you are traveling for a while.
Use a local laundry service – Surprising to westerners, there are people who take in laundry all over Thailand. On my small street alone, there are four small laundry services where I can drop off laundry with a local woman or man and they will wash, dry and iron it for me.
With most local laundry services however, it does usually take 24-48 hours so, if you need your laundry fast, this may not be the service for you. At most local laundry services, they charge by piece.
Each piece will be 10-20 baht (towards the high end in the tourist areas, the low end everywhere else). At only 33-66 cents per piece, it won't break the bank – not if you don't need 20 pieces a day doing.
Be warned, if you choose this option, in Thailand it is rude to expect a laundry woman or man to do your underwear and socks. You should hand wash these yourself, and hang them in your hotel room to dry.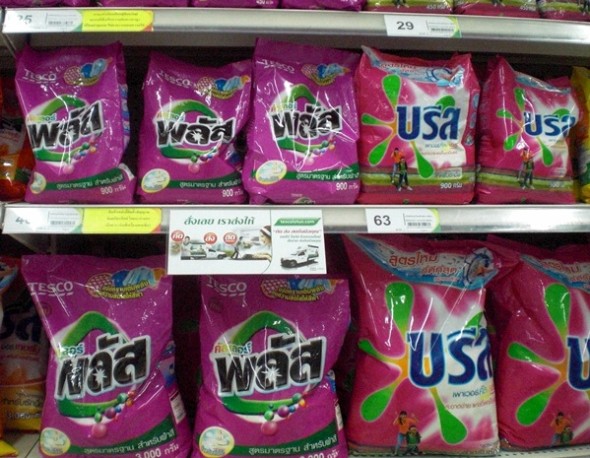 Do your laundry yourself – In some guest houses and hotels, there are laundry rooms with coin-operated machines, where you can do your own laundry. Usually costing 30 baht per load (95 cents), this is the cheapest way to do it. However, some places will not have dryers, so you will still have to hang your clothes out to dry, and even if they do they may not have an iron.
If you are going to be traveling for a while, it might be worth spending 500 baht ($15) on a small iron from the local supermarket. Looking clean and tidy is important in Thailand and wrinkles in clothing are a no-no.
If your hotel doesn't have a laundry room and you still want to do it yourself, your other option is to hand wash your clothes, which a lot of Thais and many westerners who live here do. Hang them on your hotel balcony, making sure they are securely fastened, and they will dry within a couple of hours in Thailand's amazing heat.
Getting Dry Cleaning Done as a Tourist in Thailand – In the last few years in Bangkok, dry cleaners have popped up everywhere. Now, in all shopping malls, you will find at least one and likely more dry cleaners, who will dry clean your clothing.
Most dry cleaners in Thailand take at least 2-5 days so, unless you can find an express service dry cleaner, make sure you plan ahead. Expect to pay at least 130 baht ($4) per piece but if you don't want your clothing ruined by an over zealous washing lady, dry cleaning is your safest option.
Many hotels in Bangkok also have dry cleaning services but, of course again, they are at least double what a local dry cleaner would be.
Outside Bangkok, you will find far fewer dry cleaners. If one isn't in your immediate vicinity, ask the reception desk at your hotel or guest house, as they should know where to find one.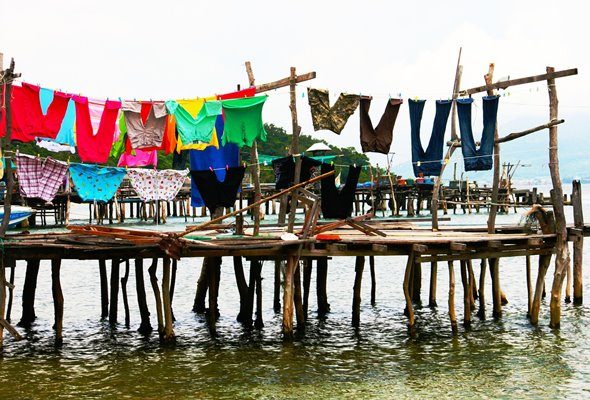 Things to Know About Getting Laundry Done in Thailand
Thai laundry women and men tend to get a bit exuberant when they clean clothing, often scrubbing shirt colors until there is hardly any color or fabric left on them. If you can find a laundry service where the staff speaks good English, tell them to be careful with the collars on shirts and blouses.
If you have clothing that may shrink, make sure the cleaner knows not to dry it in a dryer but to hang it outside. Don't worry about them using water that's too hot in the washing process as it is usually lukewarm at best.
Thais are generally honest people. You are never likely to have your laundry stolen (like I have had in both the US and UK) and, you are not likely to have any clothing disappear either.
What you drop off will be returned to you, washed, dried and pressed. Just don't get used to the luxury. It's more expensive in your country.
Finally, don't miss reading How to Stay Clean and Sweat-Free in Thailand, as that's just as important as having clean laundry. Obviously.